Make sales with Loyverse POS and accept credit and debit cards with SumUp
Either by card, cash, or mobile device, your customers are free to choose their favorite payment method.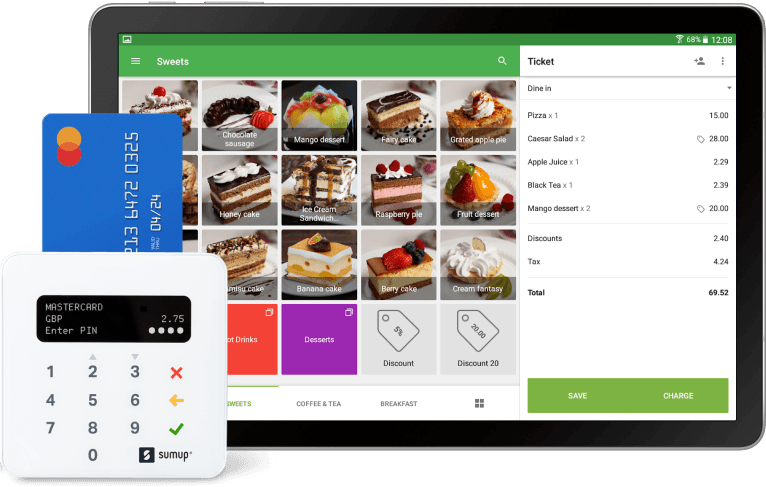 Loyverse POS with SumUp is the excellent start of your business
Loyverse POS integrates with SumUp card readers. You can select SumUp as a payment type at the final stage of your sales process. The data about the total amount of receipt will be transferred to the SumUp terminal automatically.
Connect the SumUp Card Terminal via Bluetooth with the Loyverse POS app on your mobile device and accept card payments from your clients.
No monthly fixed costs. No rental. No contract.
Low transaction rates for debit and credit cards.
With SumUp, you can accept all major debit and credit cards, incl. Visa, V PAY, Mastercard, Maestro, American Express.
Merchants can also accept online payments with SumUp on their website on the WooCommerce platform.

Accept all major credit & debit cards and the latest contactless payment methods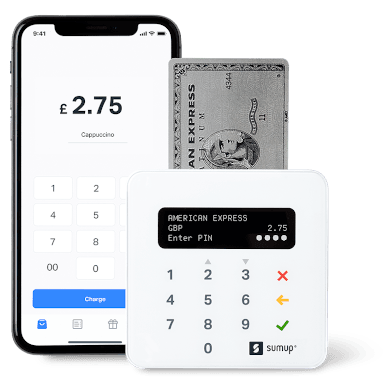 Integration with SumUp card readers allows you to accept different kinds of cards when registering sales with Loyverse POS.
Loyverse POS sends the total amount of purchases straight to the SumUp card reader, so cashiers won't have to enter it manually. It means no double entry and fewer errors.
Set up tips, and offer possibilities for customers to select a set or custom amount during credit or debit card payments (currently available only for iOS devices).
You can control sales by different payment types at the reports section of the Back office.
Accepting card payments with SumUp, you get competitive rates, reliable equipment, and superb customer service.
SumUp as a single payment provider for online and in-store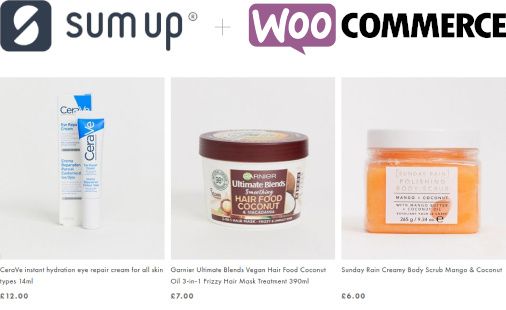 Build your brand online. Start your online business for real.
Build the eCommerce website you want on the WooCommerce platform.
Sell outside office hours & growing revenue.
No additional account or contract needed.
One flat fee per transaction.
Easy to set-up.
Learn more about SumUp Payment Gateway for WooCommerce
SumUp is available for merchants in 30+ countries
Loyverse POS joins hands with SumUp to make card payments simple and accessible for everyone. You can also be part of the thousands of small businesses worldwide that today rely on SumUp to get paid. It's never been so easy!
Learn how to use the Loyverse POS system with pleasure
 

Live Chat support 24/7

The team of our experts is always ready to help you to operate the system directly on the spot in the POS and Back Office.

 

Help Center

A comprehensive set of step-by-step guides in 17 languages with video tutorials.

 

Loyverse Town

Community for users of Loyverse products. Share your experience and hints on using system and other topics for business development.
How Do I Get Started?
Download and install Loyverse POS app
Create your SumUp account and receive a card reader
Follow these simple instructions to set it up
If you don't have a Loyverse account, register here – it's free.