Loyverse POS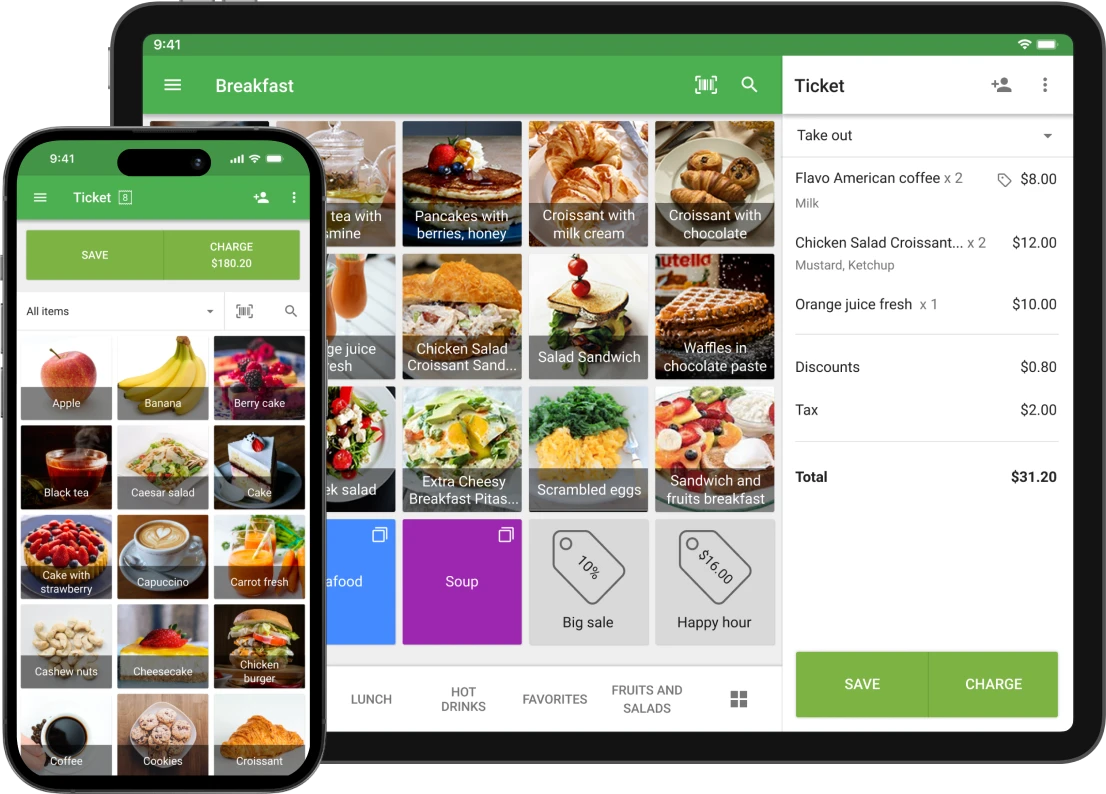 Download Loyverse POS
Intuitive and easy to use cashier app to manage retail businesses, restaurants and cafes
Download latest version of Loyverse POS for Android and iOS devices from Google Play and App store.

Fast checkout process
Add products to the ticket with just a click by using a barcode scanner or built-in device camera.
Easily find your items at the customizable sale screen.
Use item variants for goods with multiple versions, like different sizes or colors.
Apply discounts and taxes, and make notes to the items or to the receipts.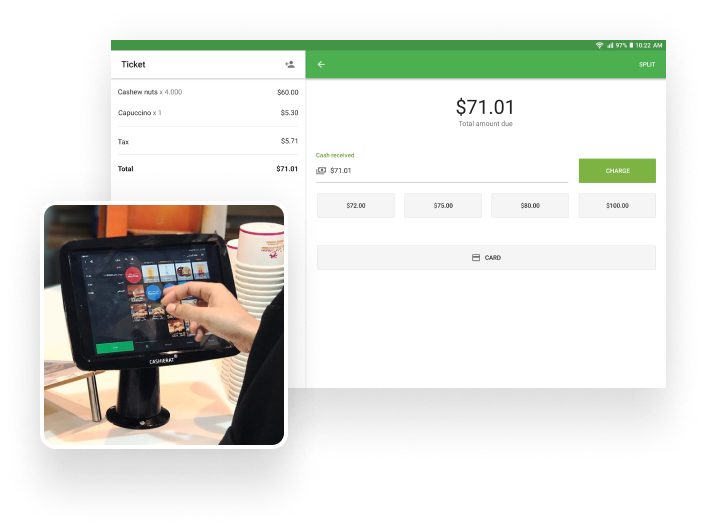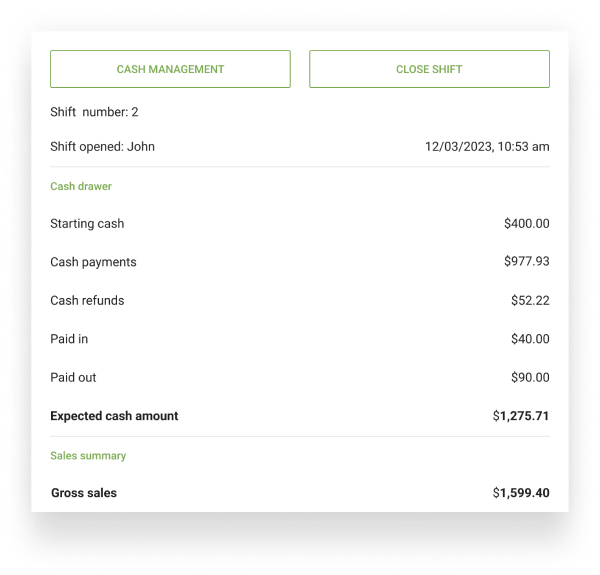 Control cash payins and payouts
Check all the cash flow into and from the cash drawer.
Control the real amount of the cash in the cash drawer and compare with the expected amount to avoid theft and mistakes.
See all the history of any payins/payouts with the employee identifier.
Flexible configuration for any business
Turn your iPad or Android tablet into modern cash register and start to sell in a minutes.
Set up as much cash registers in your store as you need – all the data will be synced between them.
Manage chain of your stores from one place in real time.
See all the important informations about your sales and products at any time and from any place.
Export all your data and make a backups whenever your prefere.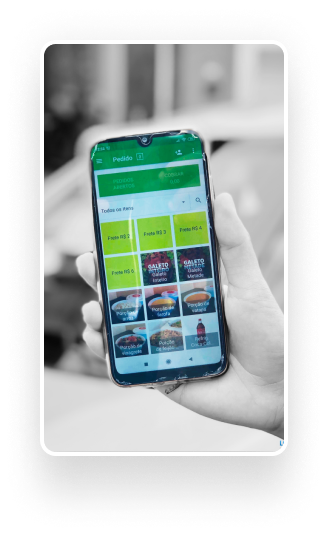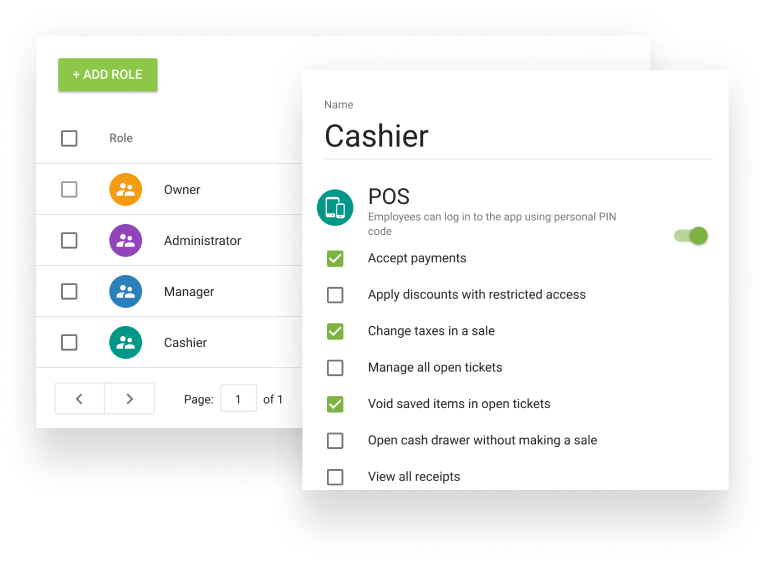 Separate cashier access
Each cash register user groups can be assigned different access rights.
Restrict employees from accessing sensitive information and functions.
Access to the cash register app with a PIN code.
You can set access rights to void saved items in open tickets.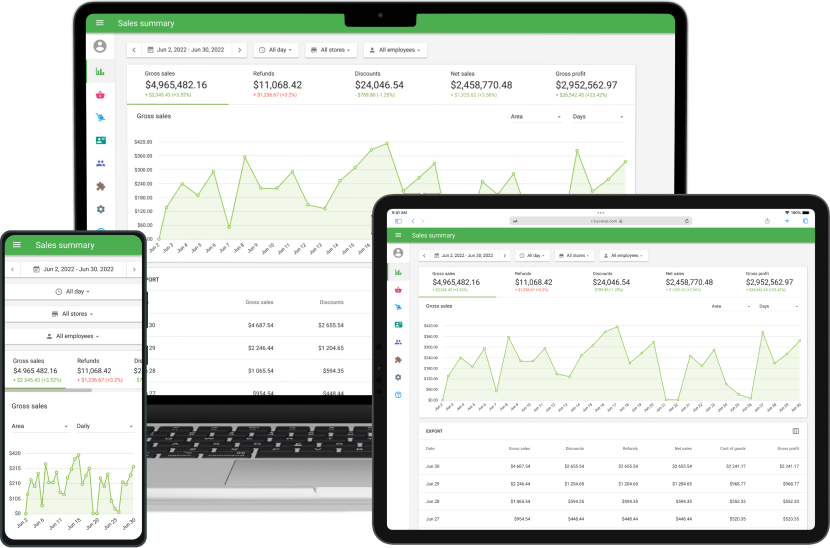 Track your sales
Track the sales growth or decline compared with the previous day, week, or month, and promptly react to changes.
Sales by item analytics allow the best-selling items to be determined and therefore, the right purchasing decisions can be made.
Use different payment types, such as cash, card, cheque, etc to analyze your sales.
Manage your employees
Make shifts and control all the cash flow and sales inside of them with the shift reports.
Check the real time of your employees work with clock in/clock out functionality.
Get the Information on the workload per hour allows for efficient management of your staff.
Track each employee's sales performance and make informed business decisions.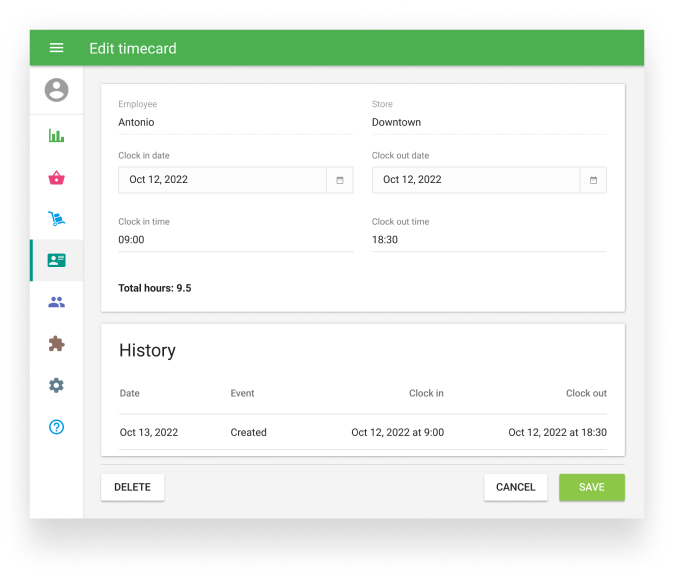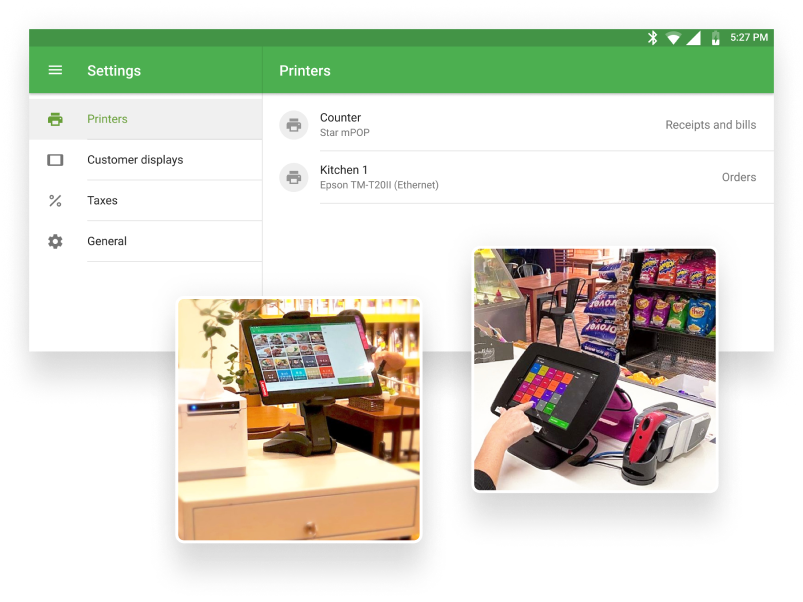 Extend the ability of your POS device with other hardware
Connect receipt printers and customer display to give your customer full information about purchase.
Connect Kitchen displays and kitchen printers to send orders to the kitchen.
Connect barcode scanners for quick and accurate sales.
Connect card readers to accept credit cards.
Reviews
I am using the system in my small shop, and the fact that it's online has given me a lot of peace, knowing that my sales will reflect accurately and cannot get lost along the way. Secondly, the reporting in the system has made my reconciliation process very easy. Third, I can track the product levels, and the notifications of low stock have made it very convenient for me. Additionally, allowing multiple employees has made my work easier because I can track each employee's sales. The POS is easy to use allows the creation of as many products as possible and permits one to have multiple branches of the same store. Moreover, the overall user interface is really clean and easy on the eyes, giving it a professional look compared to other apps.
My business accountability has been stress-free with Loyverse. The fact that I can operate it from my phone makes it better than others.
After starting to use Loyverse POS, our efficiency in order taking increased significantly. Orders are processed faster, leading to better quality and customer service. My team and I love Loyverse.
In my case, Loyverse has become a beneficial software to run the coffee shop. It's so easy that our employees barely need any training to work with it. In minutes, they are taking orders and processing payments.
Less stock loss. The selling process and shift reports are amazing. Very convenient for the selling team and for the owner too.
Ease of use. Employees with minimal training can use the software within 10 minutes. In the backend, it's easy to organize many products, in many different categories. Product pictures in the POS make it easier for employees to find the proper product.
It is an easy POS to use for customer receipts that can be emailed to them from the software, and the point benefit they receive when buying. Very good software to use for a small business.
We needed a POS that was affordable, easy to use, had a loyalty program incorporated, and worked from a tablet.....Loyverse ticked all those boxes! In addition to this, the customer support team was with us every step of the way from video tutorials to real-time live chat...AWESOME!
I find Loyverse to be a very basic, simple, and easy-to-use Point of Sale system. This free POS works well on Android devices as well as on iPad. You can add any generic brand printer, although it has official support for Epson and Star printers. I was able to add Chinese-made generic printers, and the Bluetooth printers also worked well. It is best recommended to use an Ethernet printer. As for the POS, it is straightforward and best suited for food trucks, carts, or takeaways. It offers everything that most paid POS systems do, including sales reporting through the cloud and on the Tablet/iPad. The sales can be viewed category-wise, item-wise, order-wise, or payment method-wise by the end of the day. Adding items to the menu is very easy, and they can have customized photos or colors as per your choice. Item voids and order voids options are also available.
Loyverse POS Q&A
What hardware is Loyverse POS compatible with?
Loyverse POS app can be installed and run on iOS and Android devices. The required versions of
iOS are 12.0 or higher
and
Android 5.0 or higher
.
Loyverse POS app can be connected and can work with barcode scanners, receipt printers, cash drawers, and other hardware. Please, check the
supported hardware list
.
What languages does Loyverse POS support in their product?
The Loyverse POS App supports more than 40 languages, while the Loyverse Back Office caters to more than 20 languages. Check the details about supported languages and how to set languages in the
tutorial
.
What other applications or services does Loyverse POS integrate with?
Several other complementary applications work together with Loyverse POS. These include
Loyverse CDS
(Customer-facing display),
Loyverse KDS
(kitchen display), and
Loyverse Dashboard
(Analytic tool).
The Loyverse
Back Office
is an online-based tool that works in connection with the Loyverse POS app and optimizes the functionality of the POS. It provides sales reports, manages entities, and makes settings at the Loyverse account.
Loyverse POS integrates with more than 15 payment providers around the world. The synchronization with these providers allows accepting credit and debit cards with ease. Learn more about
integrated payments
.
Loyverse also has a
marketplace
with apps that can connect with different services, such as accounting systems, e-commerce solutions, email senders, data analytics, and many more. In addition, there is an
API
that allows you to develop your own integration with other services.
What kind of support options does Loyverse POS offer?
Loyverse has a Help Center with a comprehensive set of step-by-step guides with video tutorials offered in 17 languages. Loyverse Town is an online community that provides a platform for Loyverse users to learn from other sellers how to use the system and optimize the way they run their business.

Live Chat Support is also available for subscribers of the paid functionalities of Loyverse. It provides lightning-fast assistance 24/7 from a friendly customer support team.
How much does Loyverse POS cost?
Loyverse POS is a free app that allows you to enjoy basic POS functionalities such as adding items, making sales, creating and applying discounts, taxes, modifiers, etc.
However, we have a set of additional features in the Back Office where additional charges will apply. These features are Employee Management, Advanced Inventory, and Integrations. These add-on services have a 14-day free trial. Please check our
pricing page
for more info.
Where can I download the Loyverse POS app?