ALRAJ Family Business History or How to Sell Building Materials with Loyverse POS
ALRAJ is a family business based in Burundi. They went into the business a couple of years ago as a single store selling cement and now they are distributors of building materials with 2 different locations. We reached out to them and Raj, the manager of the company, and was able to set up a meeting.
Could you tell me more about how you started your business?
Our business is a family business. My parents started this business. In Africa, particularly in Burundi, many of the businesses are informal businesses. Meaning, everything is all over the place, inventories, sales, and accounting as well. All mixed up, written in books, handwritten, and plenty of errors inside.
My parents were retailers. They would buy goods locally and sell locally. And when I finished my education, I studied international business, and I wanted to take the family business, a retail business, to the next level. And what I had in mind was to start doing importation because Africa relies on foreign products. So, many products come into Africa from different countries. But for me to take it to the next level, it cannot be handwritten; it cannot be all over the place because there can be many errors. You don't get the exact scenario of what's going on with yourself, with your inventory, or your margin. So that's when I started looking for a POS software, I was looking for any software, but then I realized, "why should I look for a POS software and install it locally?" Whereby if a natural disaster happens or something happens, I can lose my data. So, I started looking for something which would be on the cloud, and I came across many applications and many software, but Loyverse got me because it's very easy to use. And it is very easy to train my employees to use it. And overall, it has a good user interface. And I liked the features, they were pretty straightforward and I decided to go with Loyverse.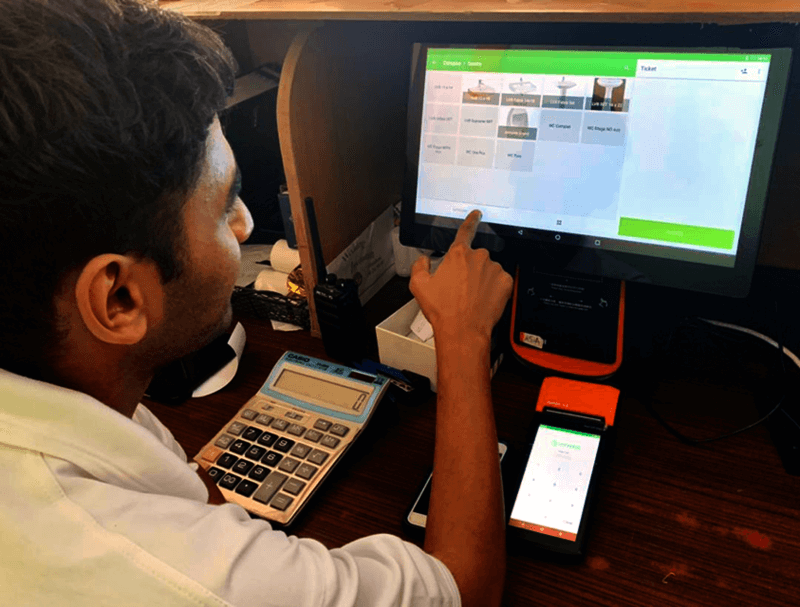 When you were joining the family business, was it an immediate decision you made to use Loyverse?
No, so basically, as my parents were retailers, I would come to the shop to help them once in a while. While helping them, I learned there were so many mistakes being done because everything was handwritten, and that's when this thought also started coming into my mind that I need to look for something that will systemize everything, that will digitize everything, making it easier for everyone. And there will be accountability as well. So, it's not something that just came up in my mind right away. It was a process, and lots of thoughts were given into it. I had to think about what I needed exactly in my business and all these features, Loyverse provided. That is why at the end of the day, I went with it.
When was the business started?
I think it was about 13 years ago, definitely more than 10 years ago. I believe it was started in around 2005. We are selling construction materials, building materials, like cement, roofing sheets, bars, tiles, plywood, everything related to building materials. My mom started with a very small shop, with only cement. And then slowly, we grew from a shop to a small enterprise. At the moment, in 2021, alhamdulillah, we are distributors of building materials.
How many locations do you have?
We do have two locations at the moment. We had one location, the headquarters, which is where I'm located right now. But then, as the business grew, as there was more demand for our product, we decided to open another branch, which is close to the border of Congo. As you are aware, I am in Burundi in Bujumbura, the Capital city and Congo, the border of DRC is not far away and 60% of our clients also come from Congo. So we decided to open another branch just near the town, near the border of Congo. So that is our second branch at the moment. We use Loyverse at both branches. Before we had Loyverse, everything was handwritten. It was very informal and time-consuming. At the end of the shift, employees would close and come to the headquarters to look at the reports. I remember my dad coming home from 8 pm-9 pm, and it was very complicated.
What makes your business stand out from other businesses that are doing the same thing you are doing?
One thing that stands out is our goal. And my personal goal is to have a proper brand. And I focused on Africa with my business. Many businesses are unregulated, putting all kinds of quality products in the market and sometimes they're not the best quality products, they don't go under quality checks, and so on. But our vision, our goal is to make sure we provide our customers with good quality products. So that is what makes our brand stand out compared to other vendors and other players in the same industry. I will not sell something that I will not use personally to build my own house. I am only going to sell products that I know I will use myself for building my own house. So quality is something that we focus on.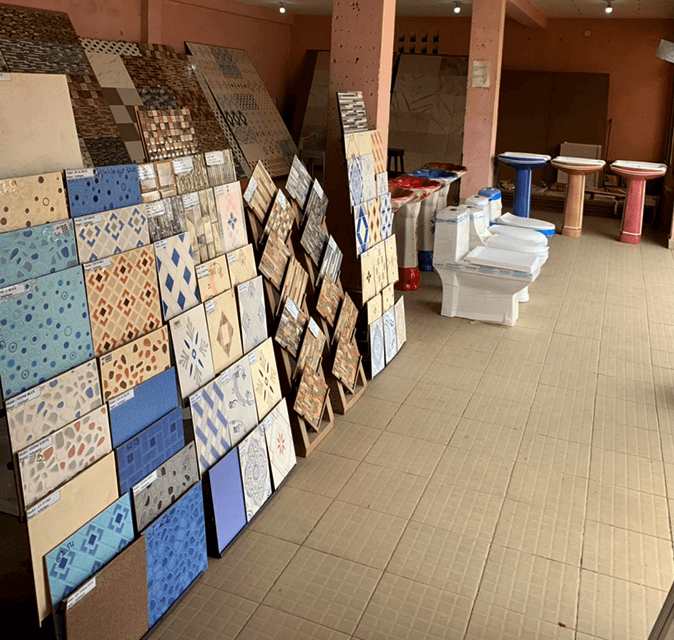 As a manager of the business, what can you say has been the greatest challenge that you've experienced so far?
One thing is an unregulated tax system and that can be a problem. The second thing is, people are not very much used to digital payments. So that is also a challenge because we are trying to integrate digital payment methods instead of taking cash because of COVID. Also, instead of taking cash, they can just send money like Mobile Money Transfer. We have implemented this already in our business, but it's very hard for the general public to get used to it, but we slowly, slowly are encouraging them if there is a possibility to use digital payment methods. That is the second challenge. And overall, there are always small challenges, but we can always overcome them.
How did you cope during the COVID outbreak last year in 2020?
Thankfully, we didn't have many cases in Burundi. So far, there are a few cases of more than 1000, but they're not severe cases. I think we have officially, they have two deaths. So overall, Burundi was not so much affected. I don't know the particular reasons why. In terms of business, yes, we were affected. But because, as I said, most of our market is the neighboring countries like Congo, like Tanzania, that's our main market. Since most of our products are sent to these bordering towns because the borders were closed, our business was affected. Once the border was opened, the demand came up and we were able to meet the demand.
So, you don't foresee any situation that would cause a lockdown in Burundi anytime soon?
Not really. There wasn't a lockdown in Burundi and the businesses that are affected are in a different industry. For example, at the moment, nightclubs are closed, karaoke bars and all these other similar business types of businesses are closed. So those are the ones who are affected, but, we took internal measures whereby in our business, you know, we put tape on the floor to make sure there is a little bit of distance amongst all. We told our employees to wear masks, and every time somebody comes to our shop, we make sure they wash their hands, their temperature is taken. We took some measures for public safety and our safety, of course.
Speaking about employees, how many employees do you currently have at your business?
So, we have two shops and both of the shops are connected warehouses. So customers come to buy supplies at the shop. For example, you come to the shop and buy 50 bags of cement and those 50 bags of cement; you do not get them at the shop. You have to go to the warehouse. And that's where the 50 bags of cement are loaded and unloaded. We have more than 55 laborers in both warehouses, these are the guys who load in everything. And in terms of my staff, we are 9 people.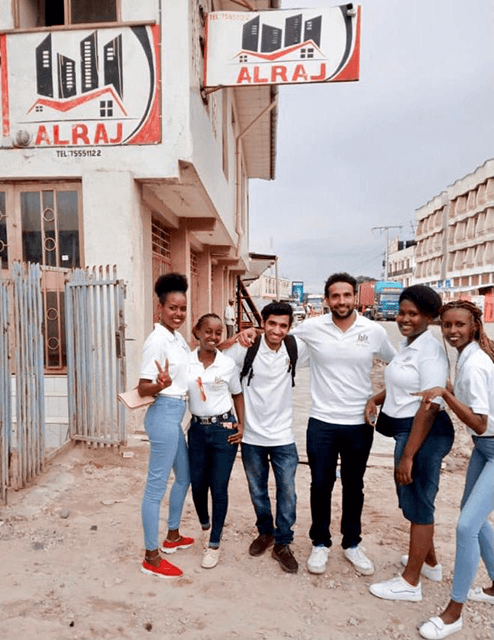 How do you manage the employees?
Because we have different departments, you know, we have the accounting department, we have the marketing department, we have the finance department, we have the sales departments. So overall, if you have a good organizational chart, good organizational communication within your company, I think it becomes very easy.
So how do you see the future of your business?
So, the challenge I used to face before was overall managing the business informally. It was very difficult but right now that we have a good system in place, which has taken away a lot of tension. Everything is well-managed. Everything is accounted for and that means I have more time for myself and to make further decisions. And my future goal is to increase more products. I want to increase my product portfolio. You know, as I said, my mom started with cement and she moved on to other products. And now, as we are distributors of a few products. In the future, in the next five to 10 years, I want to continue increasing the products. Now I have more time, so I can do enough research regarding what this country needs and how I can provide what the people of this country need. The second thing I also want to do is see if I can open more branches in other cities in Burundi.
Have any plans of expanding to other countries?
Other countries? I haven't thought about it so far yet, but I do have plans to expand to other cities in Burundi, but hopefully, in the next 10 to 20 years, we might open a branch in Zambia, because it's not very far. It's something to think about for the future.
I believe for you to grow, you have to make sure you have grown domestically. You have a very strong domestic presence before you start moving into other countries. So I want to make sure I'm very established, I wouldn't say I'm not established, but I still feel like we can be more, very well established here in other cities. And then, of course, we can expand.
If you had just one piece of advice for someone that's starting a business, what would you advise that person?
The best advice I can give is the definition of business is a risk. So, if you want to do business, you have to take risks, but when taking the risk, make sure the risk is calculated, and when there is a failure, know that failure is part of success. So, don't be afraid to take risks but make sure that the risks are calculated. The second thing I can tell is to make sure the proper research has been done and you are providing what the country or what the people need. Don't just go into business thinking about money; think of a solution instead. And when you think of a solution, I think there are more chances of you succeeding because you have found a solution to a problem that people are chasing, so make sure you find that niche. That would be the best advice I can give to the young generation.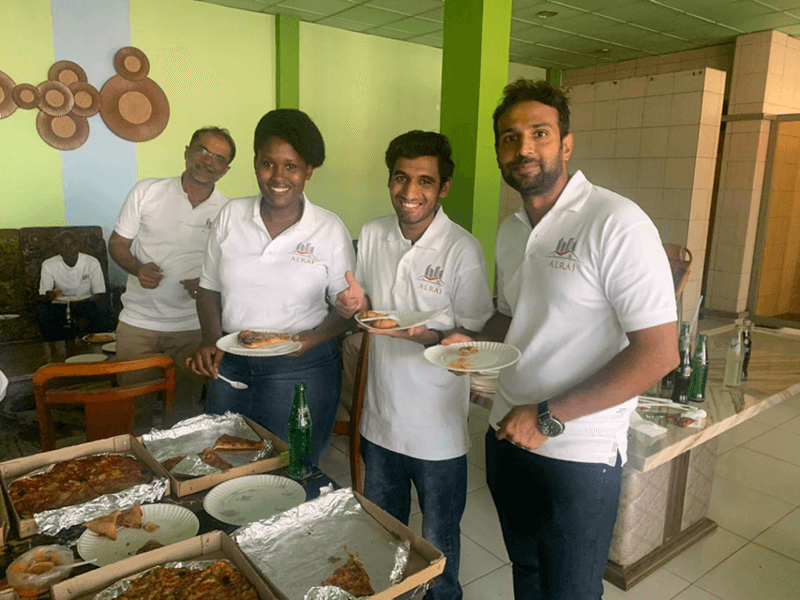 Lastly, do you have any words for Loyverse team?
Oh, knowing Loyverse, what can I say? one thing I can say is I'm very thankful, honestly. How much Loyverse has helped me systemize my business, digitize my business, how much it has made all the processes in my business. I cannot be thankful enough. You know, I compared so many different apps I came across so many when I was doing my research, but Loyverse was the one that won my heart. And so far, I don't regret it. If I had to advise someone regarding a POS system, my first choice would be Loyverse by far. Even their support system is awesome. There's customer care every time; if there's a slight problem I have or something, they're always there, ready to help you out, and very kind.
Thank you so much, Raj. I appreciate you for taking the time out to have this interview.