Best Software Review Websites for Small and Medium Business
Nowadays, technology is developing very fast. You might become confused when you have to choose software for your business from tens of thousands of applications on the market. What do you usually do when you have to choose something from a wide variety of options? Statistics show that previous buyers' product/service experience influences 90% of the new buyers. Buyers want to get an authentic perspective from those who already are using the product rather than considering only the product's presentation.
This is when the software review websites come into play as an essential role in decision making because they propose useful tools such as:
collecting reviews either by the software review websites developers themselves or through the web
grouping software into categories so that you can easily browse the best app for your needs
presentation of basic materials that software companies themselves provide; these may include screenshots, product description, features, pricing
comparison chart to check alternative solutions
Based on the similar features that they provide and the information sources (vendors websites) that they use, the software review sites might look very similar.
However, some of them have a distinctive aspect, including:
 reviews made by experts who can highlight the key characteristics you should search for
customer reviews exclusive to their website
own algorithm used to grade and rank the software application
questionnaires as a tool for making a decision
Let's overview the most popular software review websites and understand their main features and their distinctive aspects!
G2 Crowd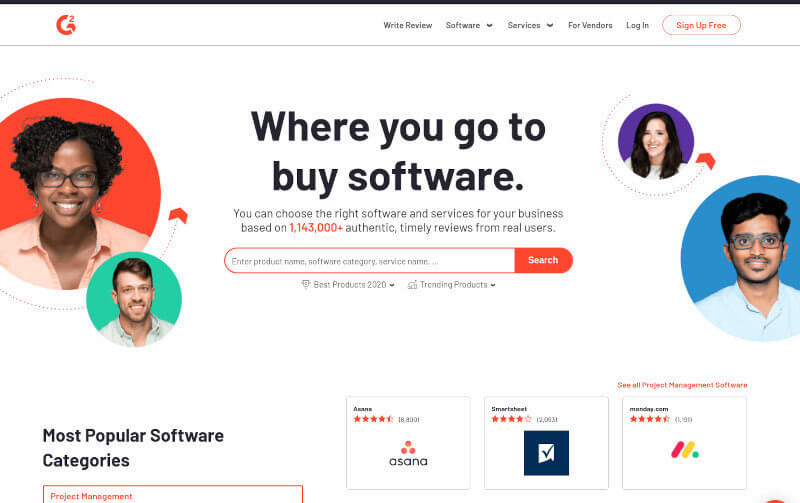 With over 1,000,000 reviews and over 4 million visitors, G2 Crowd is currently the world's leading business solution review platform. Founded in 2012 by five entrepreneurs who desired to provide unbiased information about software, G2 Crowd is now used by business professionals, buyers, investors, and analysts to compare and select the best software and services based on peer advice in real-time. Using this platform, buyers are given the possibility to keep up with technology's pace and make the buying decision easier. This platform provides chat support for visitors who need assistance. G2 Crowd has a free version but also a pricing plan for advanced features and integrations.
Capterra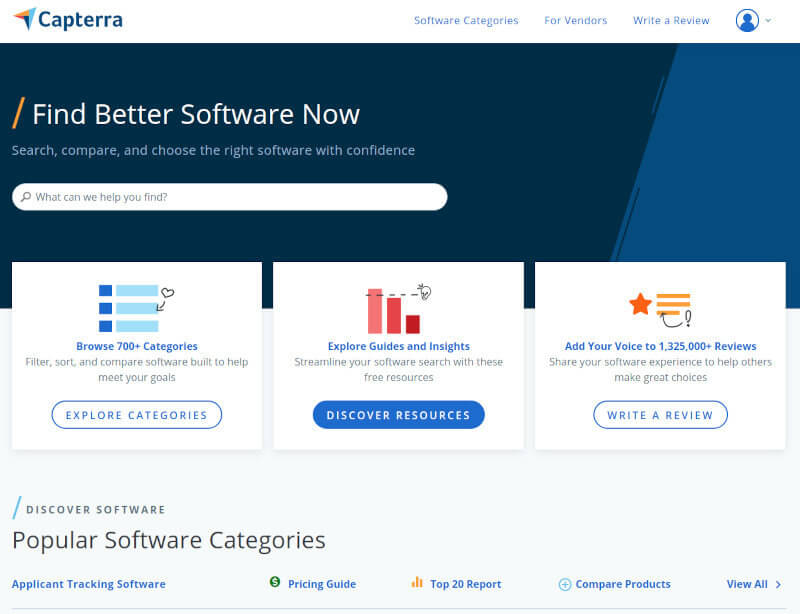 Founded in 1999 by Michael Ortner, Capterra evolved in 2008 as the first business software site to offer user reviews. With more than one million verified reviews with pros and cons of the product/services published to the site, Capterra became one of the world's most popular review providers. Besides the reviews, company profile pages include detailed information on the product, pricing, features, and screen capture of the products/services, videos, and links to the vendor website. Finally, for those buyers who are still confused, Capterra offers alternative software and comparison charts that can help you learn more about the type of software you are considering and compare a must-have feature list.
In 2015, Capterra was acquired by Gartner and became part of the Digital Markets family of brands and Software Advice and GetApp.
Capterra is getting payments from those vendors who receive web traffic from their website.
SoftwareAdvice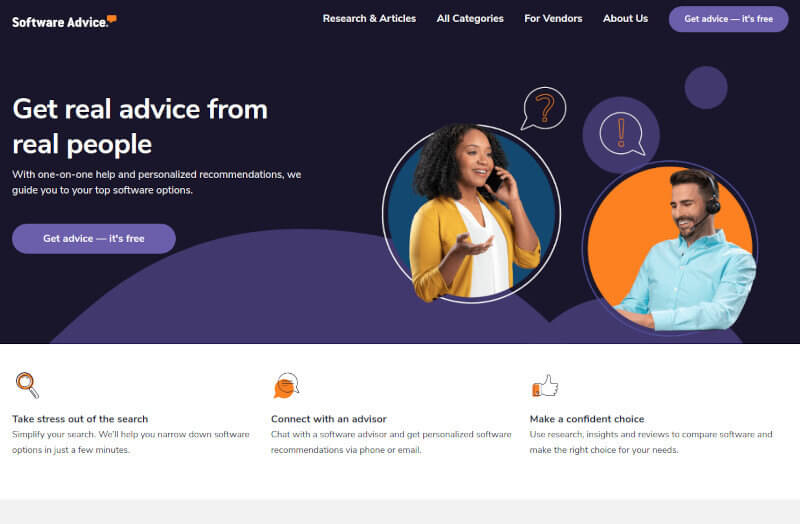 Founded in 2006 to help people "navigate the rapids of software selection," Software Advice had grown into a site that connected more than 600 000 companies with software vendors. In 2014, it became part of Gartner and continued its mission to help people find suitable software. As a small business owner, you can fill up a form specifying your goal, needs, and budget as well as your contact information for future recommendations. The "experts" can read or listen to your requirements and then create a shortlist of software providers for you to research. For each one you decide to engage with, they connect you with a vendor sales representative. The vendor pays SoftwareAdvice for each introduction.
GetApp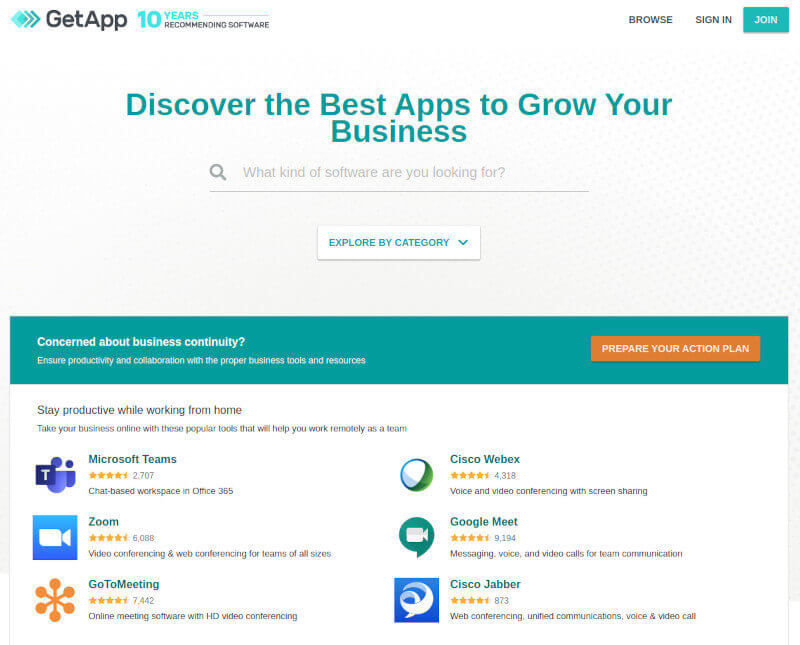 GetApp is a Gartner company that is focusing on exploring software as a service (SaaS) products. Besides the information regarding SaaS products, their features, prices, and reviews, GetApp proposes a handy app finder questionnaire. It allows you to select your necessary software criteria regarding device compatibility, features, integrations, and pricing. Finally, the recommendation engine will show the software that responds the best to your requirements.
FinancesOnline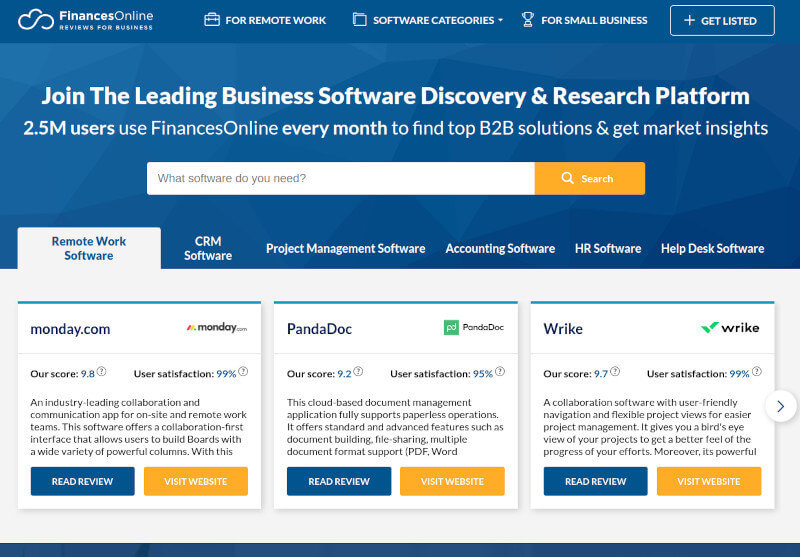 FinancesOnline is a free platform that supports users to find B2B and SaaS solutions by providing reviews, comparing any other alternative software, and, most importantly, experts gave reports. Besides the high-quality reviews from industry experts, they have one more distinctive aspect, the so-called SmartScore. It evaluates user satisfaction considering various software parts like main features, collaboration features, customization, integration availability, mobility, quality of the customer help, and support. These elements are taken into account to calculate the final score, which is from 1 to 10. In this way, the customers can get a quick overview of the software they are looking for.
TechnologyAdvice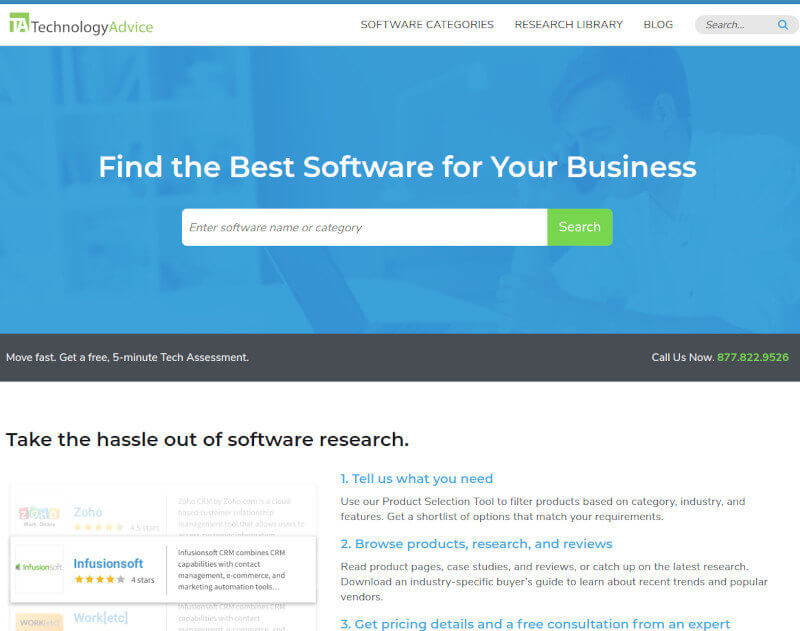 Compared to other review software sites, TechnologyAdvice software doesn't display a lot of information on various software out there, nevertheless, it focuses on connecting buyers and sellers in business technology. By accessing their website, you can ask questions in the chat or get a free consultation by calling or filling up a form with your contact details. TechnologyAdvice provides various guides as educational materials that can be downloaded for free by users who want to learn about current features and trends for their business category.
IT Central Station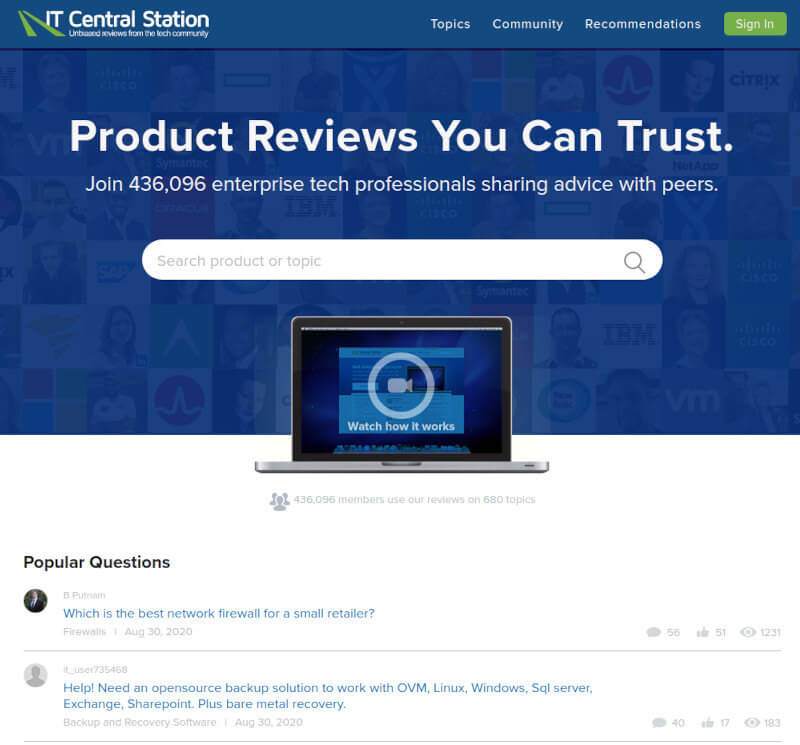 Russell Rothstein and Naftali Marcus designed IT Central Station as a helpful tool for enterprise professionals to determine what technology solutions to buy at ease. The community site includes reviews and recommendations in the form of a personalized shortlist that you can receive right after introducing your details. With multiple topics about the best technology trends, IT Central Station has grown into a dynamic, real-time platform that offers unbiased information.
Top Ten Reviews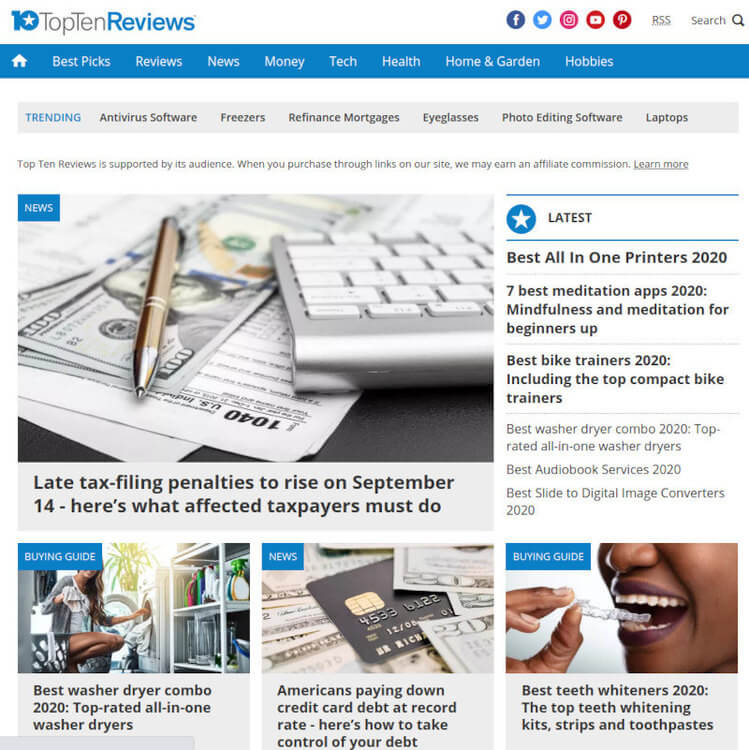 For more than 16 years, Top Ten Reviews has been writing about products and services from various categories including Backup & Recovery, Education, Entertainment, Home, Internet, Multimedia, Privacy, Security, and Utilities
They have a team of writers and reviewers who, along with a group of editors, monitor the trends, follow industry news, and decide what to review and cover on their page. Finally, they test the products or services and write about their features, ease of use, durability, and customer support level provided by the manufacturer, then they formulate a score for each product.
Top Ten Reviews makes money when users click a link and buy a product. They receive a small percentage of what the buyer paid for the product or service found on their website.
TrustRadius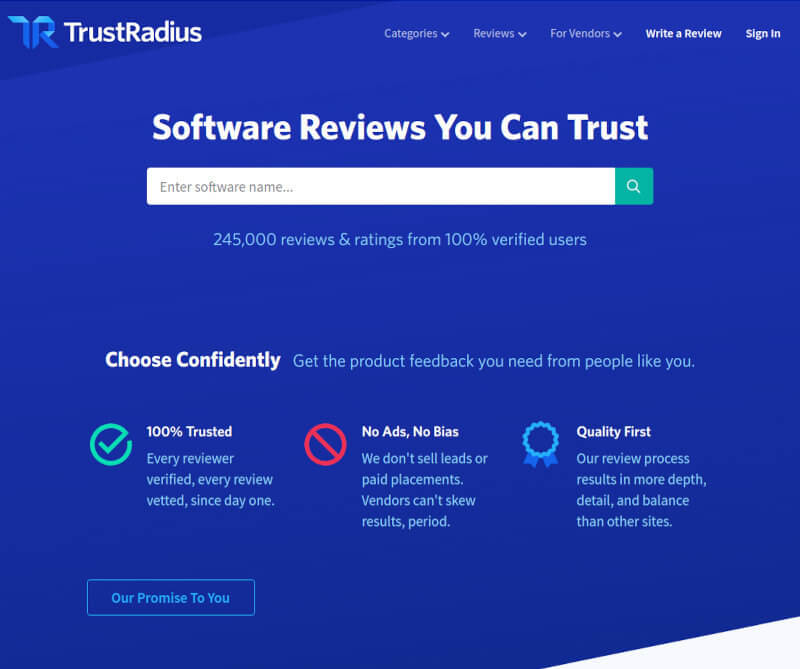 TrustRadius began in 2013, with the mission to create the most trusted resource for B2B technology buyers based on customer reviews. The most distinctive aspect of this platform is the reviews themselves. Aiming to develop a trustful platform where the buyers can find the best solution for their businesses, TrustRadius verifies by multi-step processes to ensure only genuine product reviews are chosen. Each review is also vetted for its quality, depth, and details by the Research Team before publishing. They are currently a proud review website with over 60,000 ratings and reviews, which contains, on average, 406 words, more precisely ten times the length of the average consumer review, showing how much the reviews are written in-depth and in detail.
Crozdesk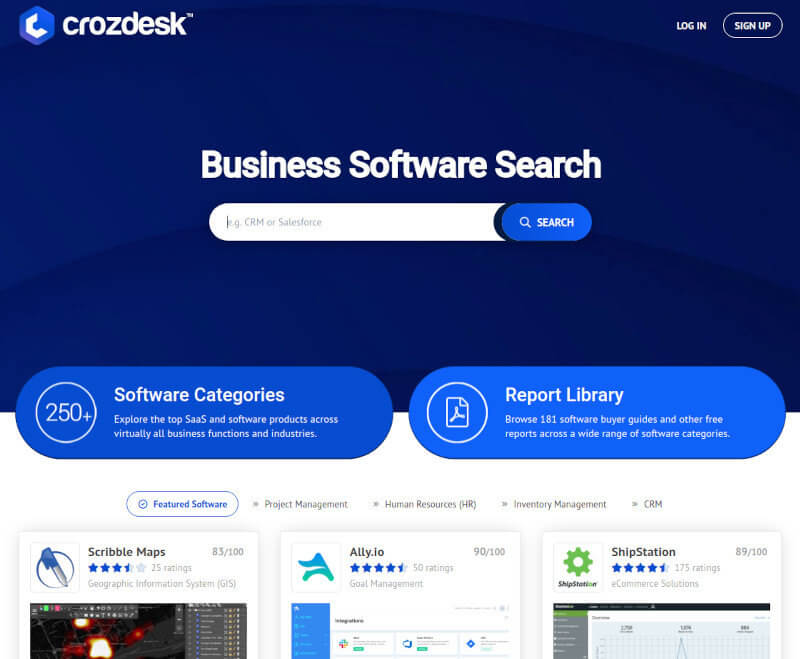 Founded in 2014, Crozdesk provides information on 1000s of software products across 280+ different categories. Crozdesk focuses on connecting businesses with SaaS applications. It gives the possibility to browse the necessary software by selecting a category and then filter the results based on the type of business, features, platform support (Android, IOS, Windows, etc.) pricing model. In this way, you can receive a list of options. Additionally, you can also further select three of them to get a comparison chart of the features. In addition to the detailed software profiles and the feature of filtering them according to your requirements, Crozdesk provides a Crozscore algorithm that calculates the general quality of business software with its competitors.
Conclusion
We could see that while researching the suitable software application, it is vital to consider: functionality, ease of use, compatibility with various devices like mobile devices, computer or OS, as well as integration options with other applications, and of course, the price. Software review websites fulfill a crucial role in browsing the vast amount of software out, thereby considering your business requirements and giving the resources to compare with other similar solutions. Many of these websites provide educational materials if you want to expand your knowledge in the current technology. However, one of these platforms' most important aspects remains user reviews and expert peer reviews. The reviews are meant to bring more credibility for buyers because they share the perspective of those who have experienced the solution you are considering.
As long as there are a lot of Software Reviews Websites, you can choose based on their distinctive approach or based on the quality and quantity of reviews.