Grocerant - the trend leading the food market into the future
In an era in which people prioritize work and quality time with family members, food that's already prepared often comes as a solution, allowing people to save both time and effort for shopping and preparing meals. Such necessities used to be fulfilled by restaurants and cafes, but lately, supermarkets try to convince customers to visit their stores for lunch or dinner—not only for a grocery haul.
This fusion of food retail and foodservice gave birth to a new trend in the food market: the grocerant.
The concept of the grocerant
The grocerant is a concept that defines a hybrid business that includes both grocery stores and restaurants. Grocerant is a place where—with only one-stop shopping—customers can purchase the necessary groceries and have a meal. Often such businesses propose a large variety of groceries and ready-to-eat food in a welcoming environment, which differs in design and atmosphere, from a simple supermarket.
Grocerants made their presence known in the food industries market since 1990 when one of the major retail chains such as Monoprix in France, IGA in the US, or Farm Boy in Canada started to increase a ready-to-cook and ready-to-eat products and even included a dining area in their stores with table services.
Restaurants' operators also started to adapt to the new trend in the food market. For instance, restaurant chains as Bâton Rouge and St-Hubert are selling their recipes directly but also are offering related products available for sale in their locations or grocery stores.
What do customers expect from a restaurant?
Restaurants are known not only for the tasty meals they provide but also for creating a unique environment for their customers. The term "dinnertainment" expresses the expectations that customers have from a restaurant very well. Customers are likely to pay for a delicious meal in an atmosphere that allows them to socialize and, unlike grocery stores, take time for a new experience.
However, with the rapid development of the grocerants starting to dominate a large part of the food market, restaurants desperately need to revise and update their strategies for their survival and growth.
Besides the welcoming atmosphere and appealing menu, it is equally important for restaurants to create a unique theme and concept. More precisely, all the elements- including design, music, attire, and approach of employees, fragrances, and tastes of the food- have to be in line with the chosen theme and concept. Such a strategy allows entrepreneurs to win over the customers, offering them a wholesome experience that touches all their senses.
What do customers expect from a grocerant?
I would say that the most beneficial service grocerants provide ready-to-eat food. In many cases, grocerants provide tables to dine in, too, becoming more similar to an in-store-cafe. Nevertheless, grocerants are mainly product-driven businesses designed to help people save time. Through one-stop shopping, they can get a cooked meal and the necessary groceries to bring home.
Grocerants attract customers through a large variety of fresh food and long shelf-life groceries with accessible prices in a relaxing environment.
From grocery stores to grocerants
Grocery stores are shifting more and more to online sales and delivery. For example, Carrefour, a French multinational corporation specialized in retail services, started closing many of its supermarkets in 2018 and moved towards developing digital platforms. Other grocery chains, too, are transforming into grocerants like Metro, which acquired Miss Fresh. Through these examples, we can see that the food market has been changing according to the customer's needs and how they are fulfilled. 
The Millenials, who were looking for a way to minimize their time on food and instead spent it on fulfilling their daily obligations at work and in their family, preferred to grab-and-go cooked components for a family meal or to dine inside the store. It, as a result, influenced the food market changes by bridging the convenience and the experience. This is how the grocerant niche started to develop.
What about restaurants? Can they become grocerants?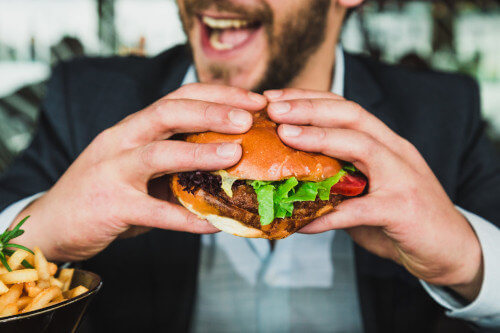 The pandemic generated by the COVID-19 brought about a severe crisis in the foodservice industry. Restaurants with those that had a loyalty system managed to survive better despite the crisis since they have already built trust with their consumers; they could continue to provide meals through the delivery and the takeaway services. Nevertheless, this may not be enough to keep running the business successfully.
While people are in quarantine, online orders for basic groceries from supermarkets are visibly increasing, causing delays in delivery. This situation can be changed so that restaurants and small cafes can meet people's needs in their proximity by introducing essential items for daily life. The main category of products that includes would be fresh fruits and vegetables, eggs, daily products, water. The next group consists of basic things for hygiene: toilet paper, toothpaste, shampoo, etc. If considering the present circumstances with everyone staying at home, the following products might appeal to many: playing cards, puzzles, snacks for children, and even cooking books, since people are cooking at home more than ever.
Grocerant trend
The food market is changing its form as the consumer's food habits change.
Since consumers are not static, the food market should grow, change, and adapt in time.
Currently, people are not likely to spend their time, money, and effort to buy groceries in a physical store, especially when online platforms make the process a lot easier. People are looking for more convenient and pleasant ways to fulfill their basic needs for food, and grocerants seem to be a revolutionary solution.
In the future, grocerants will emphasize experiential value and social interaction over little grocery shopping. They are turning their businesses into service providers, expanding their portfolios to include fresh food products, hot meals, as well as in-store cooking courses or wine tasting.
Hou Yi, the chief executive officer of Freshippo (an Ali-Baba-owned supermarket chain), describes that the future of a supermarket is "an experience center with dining options and a logistics center." It makes a connection between the offline and online worlds.