Best analytic dashboards for small businesses
Running a business is definitely not for the feeble-minded. It would be nice to say that  strong will and passion are all it takes for you to venture out into the market, but we all know that it takes a whole lot more than that.
Big or small, running your own business entails you to deal with other technical aspects such as sales, finances, employees, stocks and trends among many others, all at the same time to make sure your business stays afloat. For this, you collect data and try your best to keep track of and manage them. But what do you do with all these data and how can you use them to improve your business?
About 90% of businesses believe that data and analytics are key to their developments and innovations, and they're not wrong. Data helps us navigate the unpredictable roads of the future. It assists us in monitoring trends, making smart and well-informed decisions and forecasting what lies ahead.
The problem with data is that it can get overwhelming as there are just so much of them. This is where technological breakthroughs like the dashboard comes in to lift business owners off this burden.
A dashboard is an excellent software tool that houses all these data. It manages and analyzes them, and provides clients and stakeholders with reports with data visualization that is tangible and easy to understand.
Data visualizations are graphical representations or interpretations of your data, and are used to simplify the transmission of sometimes complex information. These visualizations can be presented in the form of graphs, bar and line charts, scales and gauges.
For instance, you own a fashion retail store. Imagine how easy it would be to spot which apparel collection sells fast in a particular season by just a glance at a chart instead of manually going through a pile of receipts. No more fussing over big volumes of files and involving an entire accounting team to scale your business' sales and profits this quarter, thanks to the well-designed graphs created by your dashboard software.
Another useful nature of a dashboard is that it gathers data from multiple data sources to provide you a single reporting terminal. You just have to make sure that the other softwares you use in running your business are compatible with and is able to integrate with your selected dashboard. This will save you time and effort of compiling reports, logging into different analytics programs and sharing data with everyone in your company.
Just like how our car's dashboard provides us with real-time data about how our car is performing, a dashboard software accumulates data that can optimize our business management and contribute to the overall success of your company.
Here are the best analytic dashboards in the market that we recommend for you and your small business.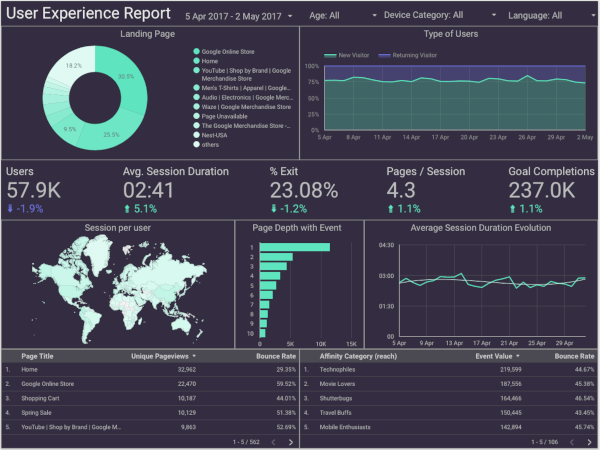 If you're looking for a free tool to start with, Data Studio is offered by Google that allows users customize reports with data from Google's marketing services and other external sources. This platform is Google's reporting solution for users who want to explore beyond the data and dashboards of Google Analytics. Their widgets are known for their variety, customization options, live data and interactive controls, such as column sorting and table pagination. Data sources include other services offered by Google (Analytics, AdWords, Search Console, Sheets, YouTube, etc.), database connectors, file upload, and "community" connectors to popular marketing services. It features management reports that allow even non-technical users to drill deep into your data, and diagnostic reports that enhance optimization of organic search, paid, ads, and more.
The Grafana dashboard is a powerful data analytics and visualization tool that integrates with a wide variety of sources that store time series data. The Grafana dashboard is open source and provides large-scale documentation that is user-friendly. A popular feature of this dashboard is that it brings data together in an organized and efficient way. Users do not have a hard time understanding the metrics of their data thanks to their queries, informative visualizations and alerts. Not only do Grafana dashboards give perceptive interpretations to the data collected from numerous sources, but it also allows you to share the dashboards you create with other team members, allowing you to study the data together.
Another key aspect of Grafana dashboards is the fact that it allows more customization and power, depending on your coding abilities.  However, you do not need to be a coding expert to create your own fully functioning Grafana dashboard.
Not only can Zoho Analytics connect all your staff and  employees under one dashboard it can also consolidate all your important business matters like your  sales, marketing, accounting,  and even customer support and HR. It has 40+ different apps that it can integrate with and another 40+ that you can have access through your phone to help you with your decision-making needs on the go.
A special feature is that this dashboard can also run your business. For example, you can manage your email marketing campaigns, take surveys, and create customer engagement forms. This even allows you to connect with other teams for collaborative projects.
Data imported to this platform can be from files, web feeds, popular business applications, cloud and on-premises databases.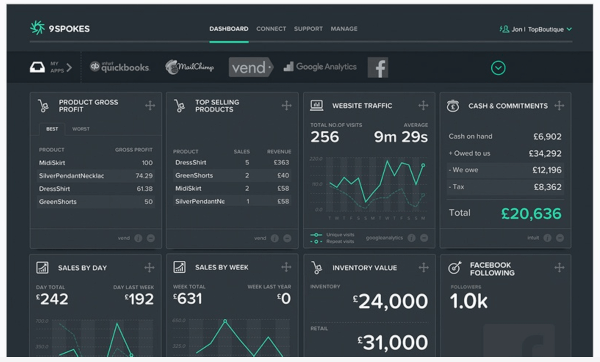 If you're looking for a free and easy to use dashboard software to start with, then 9 Spokes must be for you. The tool enables you to connect all of your business tools so that you can track them all in one dashboard. It can keep track of anything: from your employees and their schedules, to your accounting, website analytics, overview of sales and profits and even your products and inventory.
You may also customize your dashboard to your liking, with tools from nine different categories, and in these nine categories, they give you access to a huge library of business tools that can be linked to your dashboard. Even your cloud software apps can be integrated to 9 Spokes to give you a clean picture of your business performance, to help you make smart business decisions for your company's growth.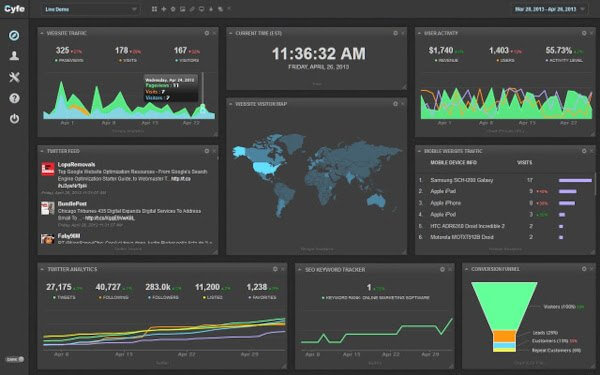 Cyfe is another business dashboard that focuses more on analytics. If your business offers applications and softwares and utilizes social media as a promotional platform, Cyfe is your partner-in-crime. This dashboard can help you monitor at a glance, how many people have downloaded your app, keep track of your mentions on social media and how much traffic your website is getting.
It is a highly powerful tool that optimizes your business performance by monitoring a variety of aspects like sales, finance, project management, your social media, website and other marketing strategies. Best part is, you don't have to be an IT expert to set this up, in just five minutes you can go from zero to data with their pre-built templates, widgets and a starter dashboard.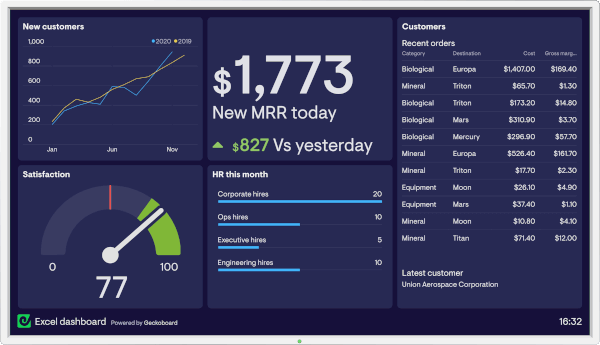 Geckoboard with their eye-catching and easy to understand data visualizations, it is one of the go-to analytic dashboards, perfect for teams who use all kinds of different tools to manage their business. It connects these apps so important data can be viewed in one place. You can even customize dashboards depending on each team member's needs, so everyone can focus on their respective tasks and objectives.
For example, a dashboard can be customized for a CEO with a focus only on revenue growth while salespeople and managers can track these revenues and monitor sales reps' performance.
Geckoboard can integrate data from over 60 different apps and tools in all kinds of categories, including Instagram, Twitter, and other popular social networks for your social media marketing, Salesforce for sales and finance, Mailchimp for email marketing, and Google Analytics for, of course, web analytics.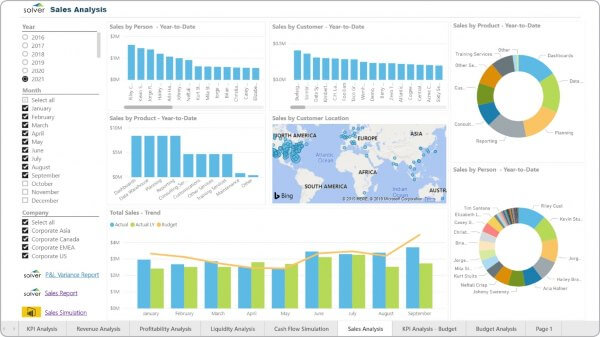 Solver is a powerful web-based dashboard that allows you to visualize trends and identify issues for better decision making.  It not only unifies people and data into one comprehensive platform but it also interprets your important financial and operational data in a comprehensive way that is easily accessed by business owners, managers and even employees. Through this platform, making forecasts about the future of your business is made easier because it allows users to analyze past performances. With just a starting price of $312.00 a month per user, experience its powerful BI connector and templates for real-time data interpretation as you enter it in the Solver's Data Warehouse.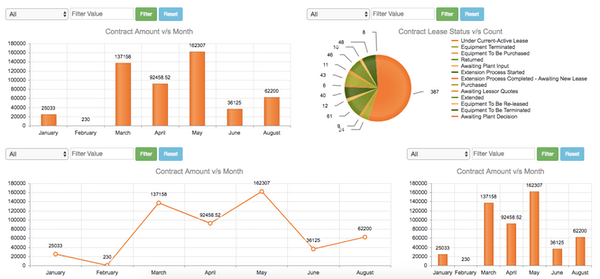 A1 Tracker takes pride in its risk management software that tracks the cost of risk, risk management staff training, licensing, certifications, incidents, and claims. It is perfect for businesses looking to better manage risks in different levels in their business. It provides users, employees and merchants to submit data and files for approval and better workflow routing. Their powerful risk management dashboard shows risk metrics that help your management team make competent decisions to mitigate risks.
This platform creates cutting-edge dashboard reporting tools with charts, graphs, heat maps, data summaries, and more. With its software widgets, users can select which reporting tools they need, and have an easy way to view data metrics in virtually any format and have options to export data. 
MicroStrategy Enterprise Analytics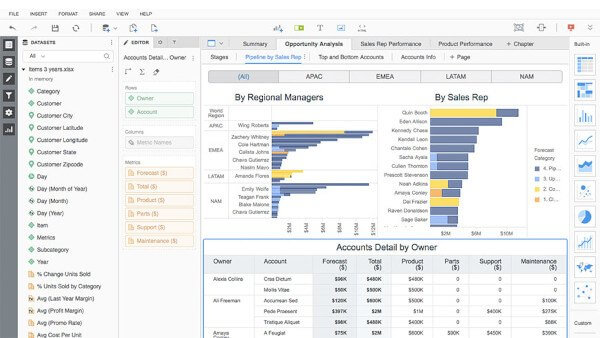 MicroStrategy is known worldwide for its analytics and mobility software. A pioneer in the BI and analytics space, it delivers innovative software that helps people make better decisions and transform the way they do business. MicroStrategy is the only analytics platform on the market that combines enterprise-grade performance, scalability, and security with interfaces and workflows that are user-friendly. This platform supports enterprise-grade data discovery that's fast, easy, and governable. These capabilities make it easy for business users to quickly connect to nearly any source and start analyzing data through intuitive workflows and interfaces.
With dashboards, you let the software help you make the most out of your business. So go ahead and say goodbye to the days of frequent data anomalies, and making big business decisions based on instinct. Now that we've presented to you some analytic dashboards softwares that may just be the game changer for you and your business, we hope that this article opened a world for you where software innovations such as the dashboard can optimize your business performance and lead you to a more successful future.