Best online ordering & delivery services for small and medium businesses
Online ordering and delivery services are growing in popularity all over the world. COVID quarantine measures facilitate ordering food to eat at home habits.
If you run a restaurant, pizzeria, and cafe, it is good to open a delivery channel to gain more customers and facilitate sales.
There are a lot of suggestions from different companies in each city and towns. Some of them are local, some countrywide, and some work across countries. In this article, we give an overview of popular services that operate worldwide or covering several countries. 
There are two main categories of such services:
1. Delivery platforms They organize delivery and promotion of your food offers in their marketplace. Restaurant businesses need to receive orders, prepare meals, and give to the coming courier. But the commissions for such services are relatively high.
2. Online ordering systems - organize the online ordering process, but without delivery. In this case, you have to hold the delivery by yourself. Such systems create an online store and/or app, but they do not bring you customers. Even though online ordering systems usually provide users with various marketing instruments, you have to make marketing efforts and find customers by yourself.
Uber Eats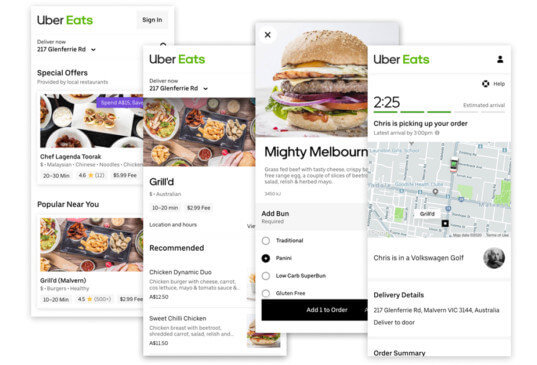 Uber Eats is an American mobile food delivery platform launched by Uber in 2014 and based in San Francisco, California. Uber Eats is available in over 6000 cities across 45 countries. All restaurant offers are collected in one marketplace for customers to choose from. Users love the simplicity of ordering and tracking the progress of delivery on the map.
Foodpanda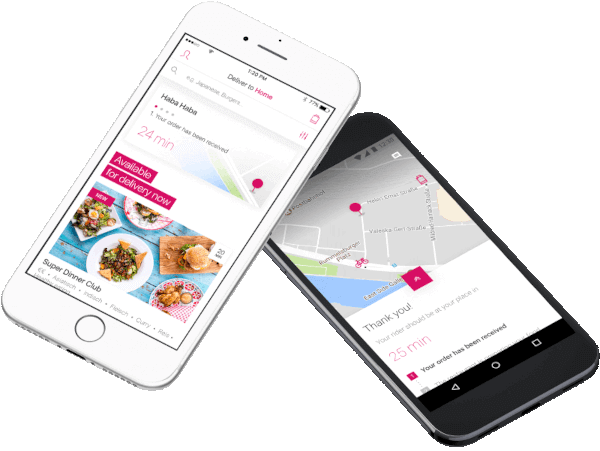 Foodpanda is a mobile food delivery marketplace owned by a Berlin-based company and operates in about 50 countries. It is primarily active in the Asia Pacific, Bulgaria, and Romania. The service allows users to select from local restaurants and place orders via its mobile applications and websites. 
Gloriafood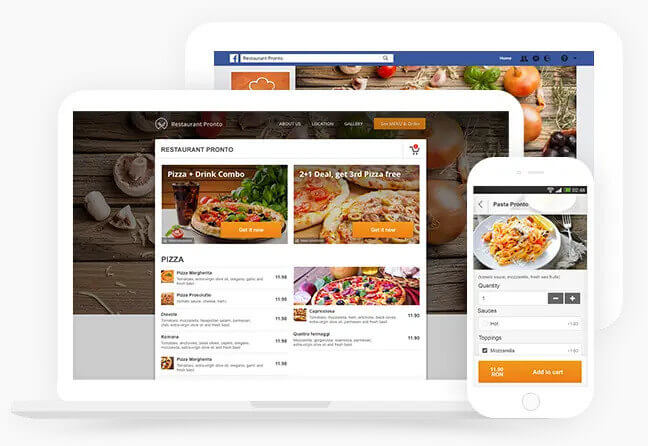 GloriaFood is an online ordering system for restaurants. Service provides an ordering widget for existing websites or can create sales optimized websites. GloriaFood, a Romanian based company, has users from 140 countries. Their business model is freemium, which offers basic functionality for free and additional paid services.
Zomato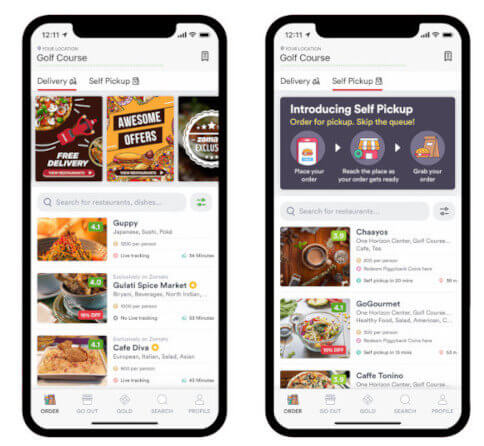 Zomato is a restaurant aggregator and food delivery company from India. Zomato provides information, menus, and user-reviews of restaurants and food delivery options from partner restaurants in select cities. The service is available in 24 countries in more than 10,000 cities.
Glovo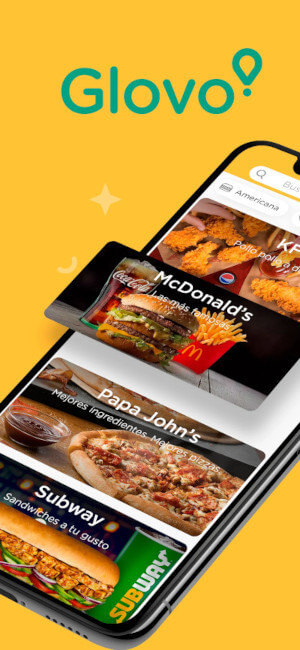 Glovo is a Spanish company that offers on-demand courier service that purchases, picks up, and delivers products ordered through its mobile app. It aspires to be a multi-category lifestyle app with food delivery being the most popular offering. Glovo works in more than 20 countries globally.
Deliveroo
Deliveroo is an online food delivery company from London, Great Britain. It operates in two hundred cities in the UK, EU countries, Australia, Singapore, the United Arab Emirates, Hong Kong, and Kuwait. Service offers the ability for customers to order food from local restaurants through the app and track delivery.
Ordering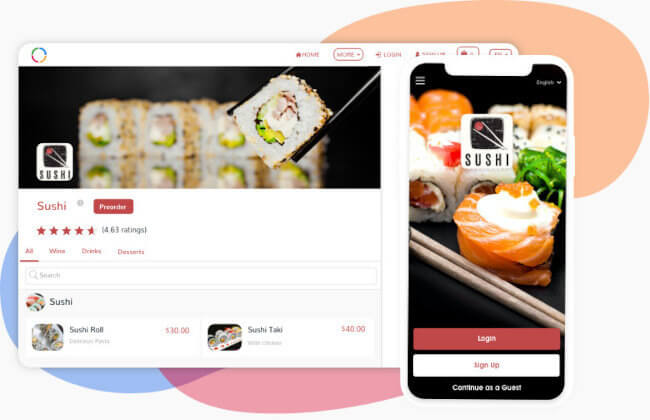 Ordering is an online ordering system, offers restaurants and groceries specialized in ordering e-commerce websites and apps. The service also has tools for optimization delivery processes. Ordering is a US company with users from more than 80 countries.
Flipdish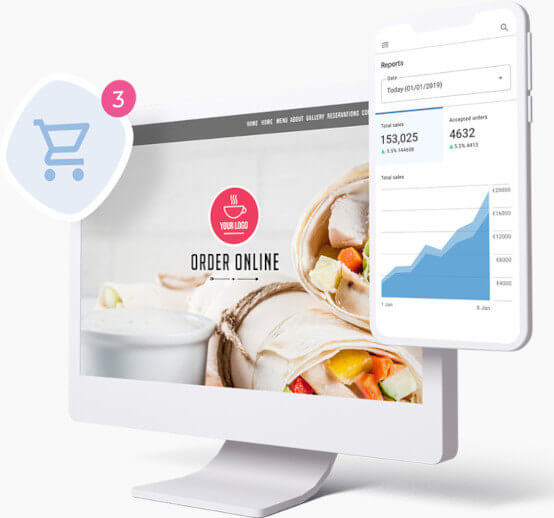 Flipdish is an online ordering system for restaurants and takeaways. The service creates a website and mobile app for online food ordering. With the Headquarters in Dublin, Ireland, service has users in 12 countries mainly from Europe.
DoorDash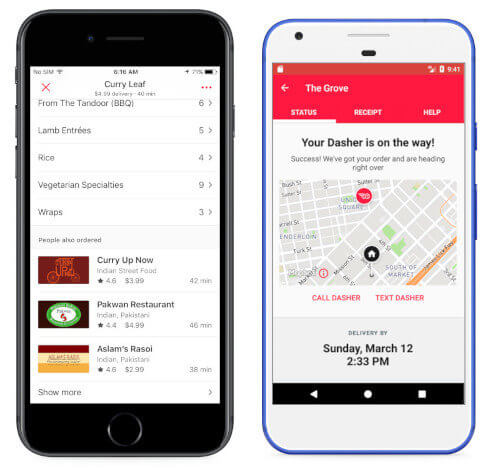 DoorDash is an American food delivery service. It works in more than 4,000 cities and offers a selection of 340,000 stores across the U.S., Canada, and Australia.
MenuDrive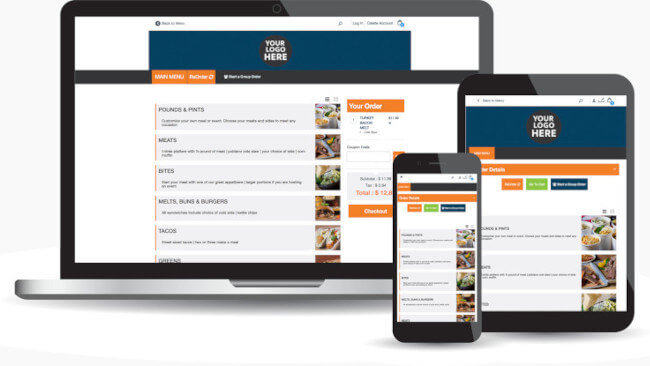 MenuDrive is an online ordering system for restaurants and caterers. The service provides for user branded online and mobile food ordering systems. MenuDrive, with headquarters in the USA, has a wide range of customers across the USA and Canada.
GrabFood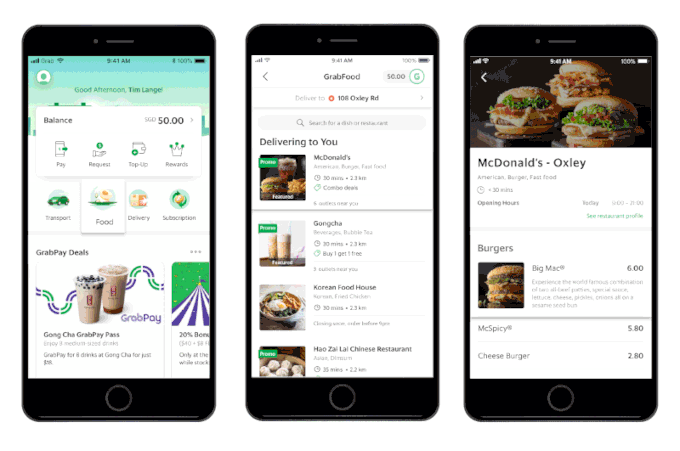 GrabFood is a part of the delivery service Grab from Singapore. Customers can order food online at the website or app. Service provides restaurants and grocery stores the ability to place their offers in the marketplace, accept payments, and deliver customer orders. GrabFood operates in Southeast Asia: Singapore, Cambodia, Indonesia, Malaysia, Myanmar, Philippines, Thailand, Vietnam.
Menulog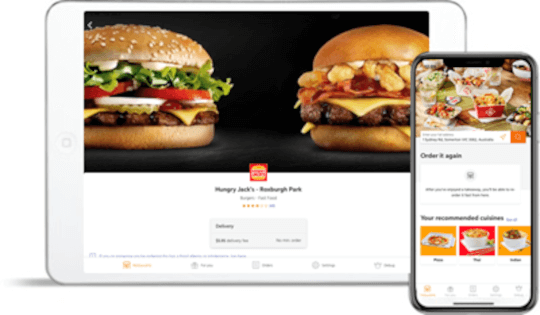 Menulog is Australia's food delivery service. It operates in Australia and New Zealand. Almost 20,000 local restaurants can place their offers, and customers can order via Menulog mobile apps and websites.
Orderspoon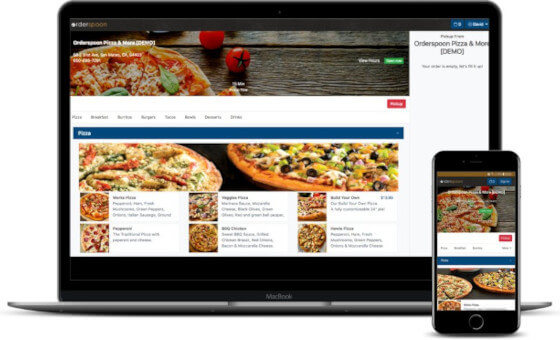 Orderspoon is an online ordering service from the USA and has more than 1000 restaurants connected. It offers a customized website as well as a mobile app. There is also a curbside pickup functionality, the option when customers can choose for their order to be brought to their vehicle.
UrbanPiper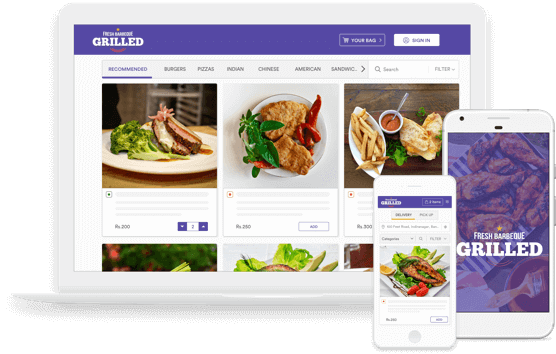 UrbanPiper is an online ordering service from India. It has more than 10 thousand users across India & Middle East. UrbanPiper offers a white-labeled and customizable websites and apps for online ordering. The service also includes a content management system and CRM dashboard as well as customer segmentation and campaigning tools.
Takeaway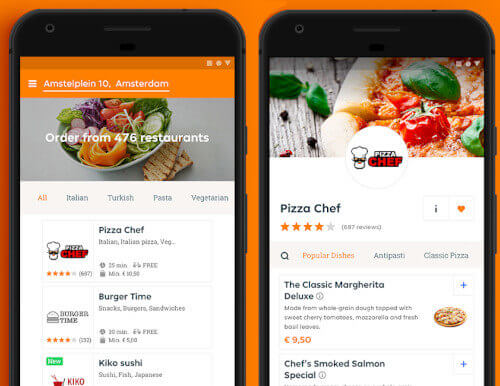 Takeaway is an online food delivery marketplace from the Netherlands, focused on connecting consumers and restaurants. The marketplace is available for consumers through mobile applications and via the website. Service works in 10 European countries (Netherlands, Germany, Belgium, Austria, Poland, Bulgaria, Switzerland, Luxembourg, Portugal, Romania) and Israel. 
Just Eat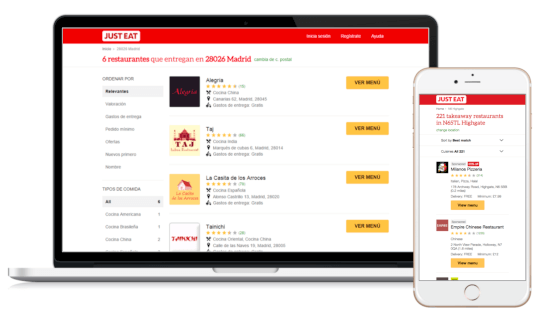 Just Eat is an online food order and delivery service with headquarters in the United Kingdom. The company operates in 13 countries: the United Kingdom, Ireland, Canada, Mexico, Australia, New Zealand, Norway, Denmark, France, Italy, Brazil, Spain, and Switzerland.
GO-JEK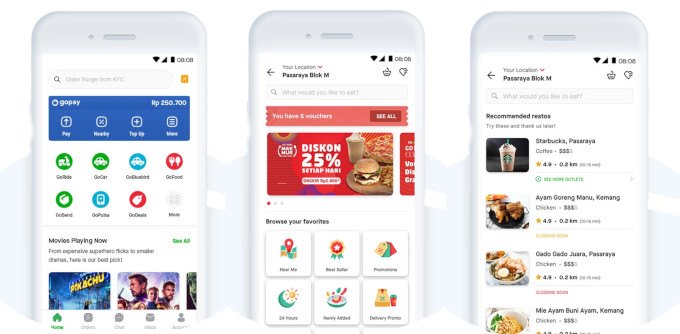 GO-JEK is an Indonesian on-demand multi-service platform and digital payment technology group based in Jakarta. Gojek operates in Indonesia, Vietnam, Singapore, Thailand, and the Philippines. Gojek's users can access over 20 services through one platform ranging from transportation to food delivery, massages, e-money, and a loyalty program.