Best scheduling systems for small and medium business
Recently I moved to another country, and I had to make an appointment with a doctor. The appointment system of that clinic was based on phone calls. Since I could not use my phone yet, I borrowed a phone to call the clinic. The receptionist asked me what number she would have to call in case something changed. I said that I could give my email. However, the receptionist said that they do not have the time to sit and write emails, and the quickest way would be through a phone call.
In case there were some changes with my appointment, I came 20 minutes before my appointment. Fortunately, my appointment was available, so I just had to wait. But when the time came, the doctor was still busy. Another 10 minutes, 20 minutes, 30 minutes of waiting, and finally, losing my patience, I spoke to the receptionist that this is inadmissible. After 40 minutes of waiting since my scheduled appointment time, I could finally meet the doctor. 
Do you have any similar stories? Have you had any frustrating experience where you had a very long wait before your appointment? If you had, then you must have wished to avoid such a situation. 
If you have your own business, you would like to better care for your clients by communicating with them about any changes with the schedule and avoiding such downtimes or overlaps in the table. 
What is the best way to do that? I would say that using appointment scheduling apps and booking software brings advantages to planning schedules and communicating with customers. These applications/software are designed for service companies and help automate the scheduling of meetings with customers.
The main benefit of a scheduling system is to help you organize plans so that you can:
manage time for you and your employees
reduce the possibilities of clients not showing up through automated email alerts
reduce mistakes in scheduling 
reduce inactive time
eliminate unnecessary back and forth emails
These online scheduling systems often provide a free trial and a free version that includes solutions such as email alerts for staff and customers to remember the scheduled meetings, managing employees' activities, enabling the integration of calendar with the app, or website.
Moreover, online scheduling software is developing a large variety of paid features that may include online payment, reports, and statistics about revenue, possibility to create departments, the possibility to track history of clients by integrating other apps that can stock information about clients for doctors and lawyers, adaptation to mobile phone and integration with various calendars and applications.
Let us have a look at the 11 most popular scheduling systems for small and medium businesses.
Resurva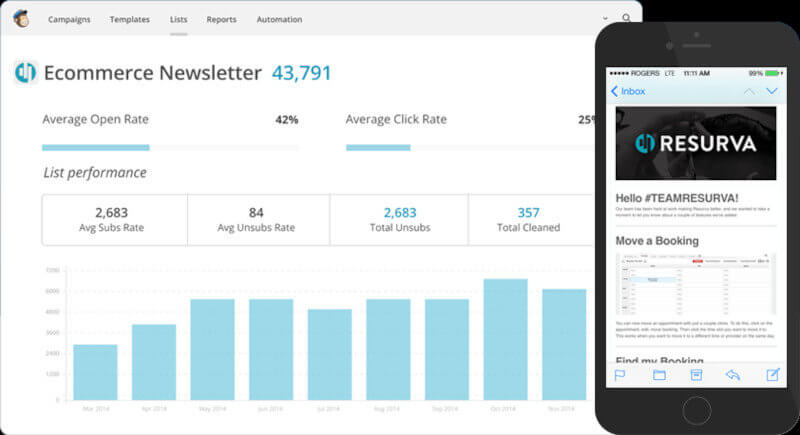 Resurva is a software dedicated to barbershops and was created in 2011 to help the customers reduce the long waiting time for their weekly haircuts. The software is very popular among barbershops, and it helps to schedule your visit without calling, without back-and-forth emails, and directly from the website. The motivation behind this software development was to create a community and a culture, where the barbers could improve their communication with customers and provide the service without much effort. Resurva offers a generous length of the free trial period, which is 60 days. Afterward, the price increases with the number of bookings and the number of locations.
MioSalon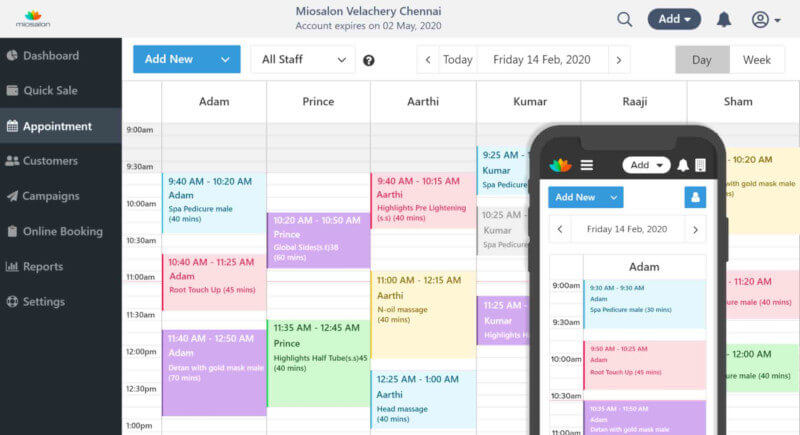 MioSalon is a software dedicated mostly for beauty services. It includes hair, nail, and beauty salons, as well as spas, health, and wellness centers. The main focus is to increase customer engagement and retention. The software includes appointment scheduling, client data management, inventory management, payment processing, and client marketing. MioSalon helps businesses that are in the beauty services, and are eager to help create a long-lasting and loyal customer base for the users of this software. After the 14 days of the free trial, the price increases with the number of staff. 
Bookafy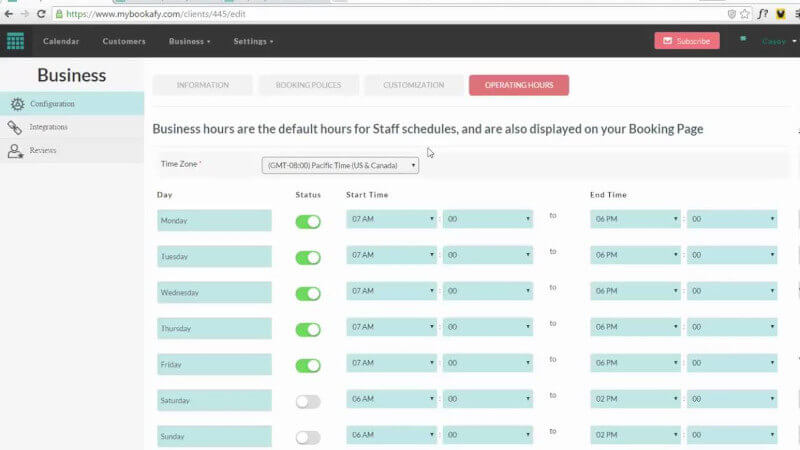 Bookafy offers solutions for various types of businesses, including financial services, freelancers, recruiters, medical clinics, educational institutions, home care services, and beauty salons. It is available both in iOS and Android, the Bookafy application enables you to sync your appointments both with Google Calendar and Outlook. The app is integrated with email sending tools such as Constant Contact and Mailchimp. With Bookafy, you can access unlimited bookings of appointments, customize messages, frequency of reminders, and scheduling of buffering time between appointments. This mobile application supports 35 national and regional languages, enabling customers to set up the display with their languages. This application has a 7-day free trial—the price increases with additional features you choose to use.
AppointmentCare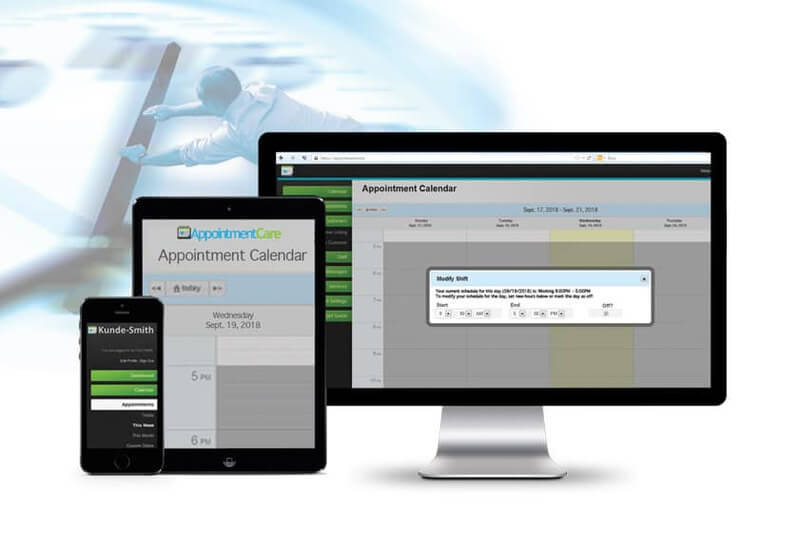 AppointmentCare is an online scheduling tool built for solopreneurs, small businesses with a small team, and multi-location businesses. This software provides 24/7 accessibility, allowing customers to make appointments anywhere, anytime, which allows them to increase sales. This app provides entrepreneurs to check their team schedules and their customer's information. Simple to use and with 30 days of the free trial, AppointmentCare is created to fit all kinds of small businesses, including service industries, law firms, or beauty salons. After the 30 days trial period, you can choose a pricing plan according to your team members' number.
Timely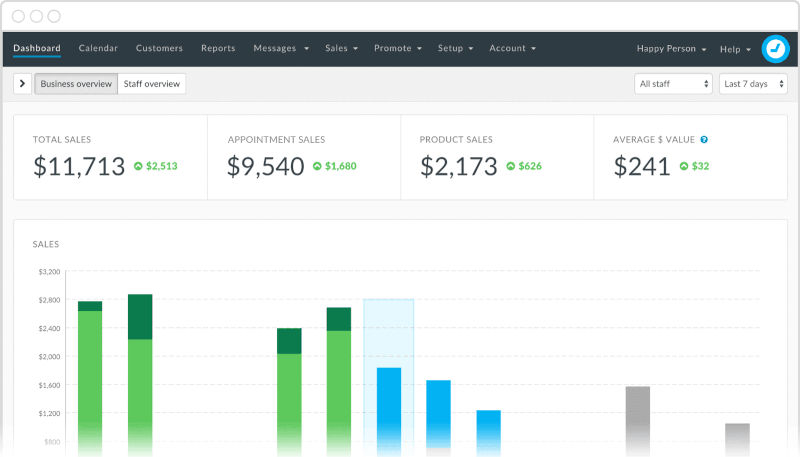 Timely was launched in 2011 by Andrew Schofield, Ryan Baker, and William Berger, and is defined by its founders as simple, affordable, and reliable appointment software for small businesses. Previously Andrew and Ryan created software called the Booklt that successfully supported the tourism industry in New Zealand. Owners of small companies asked for a similar solution for salons, clinics, gyms, etc. Timely was created to meet the needs of such entrepreneurs. The pricing plan depends on the number of staff. This software doesn't have a free version but has a 14-day free trial.
Calendly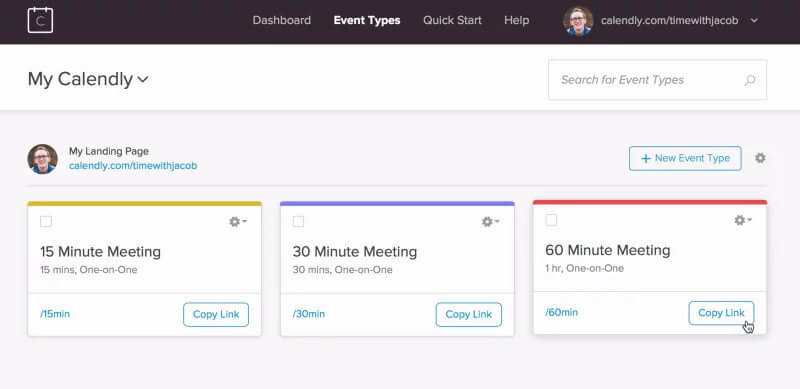 Calendly offers solutions that can be used in various areas, including sales and marketing, education, freelance jobs.
It can connect with up to 6 calendars at only $12 per month. It automatically distributes meetings to your team based on their availability, priority, or equity. With the help of Calendly, entrepreneurs can manage large teams. It is also the right solution for scheduling groups in the same event, webinar, or training.
Homebase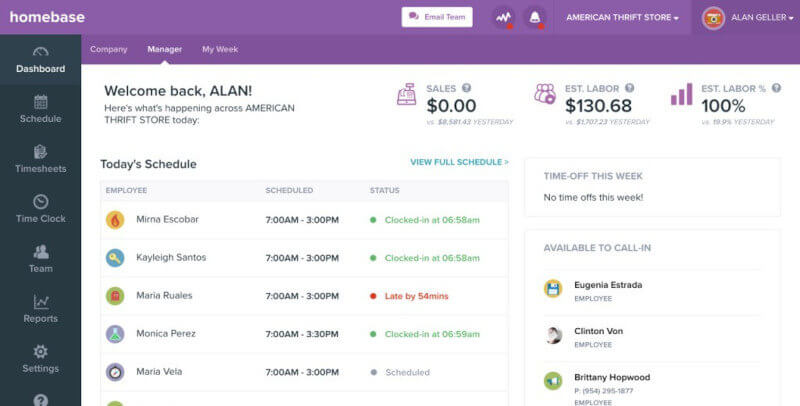 Homebase was launched in 2015 in the US with the desire to get rid of any unnecessary paperwork and the hours spent on administration work. It is a cloud-based time clock and timesheets that allow you to track the hours from anywhere and save time preparing payroll. It can be used by businesses such as restaurants, other food and beverage services, and retail, health, and beauty services. Homebase offers basic features like scheduling and time clock, for free for unlimited numbers of employees. They also include paid features that help improve team communication, HR & Compliance, and Health & Safety. The price increases with the number of locations you have.
This scheduling tool helps the team stay connected and coordinated, and their paid version includes a feature especially useful at his current time, which is called the 'Health and Safety'. It offers a customizable checklist for the Covid-19 symptoms, and employees would have to pass this health screening before their shift starts—another helpful tool.
YouCanBook.me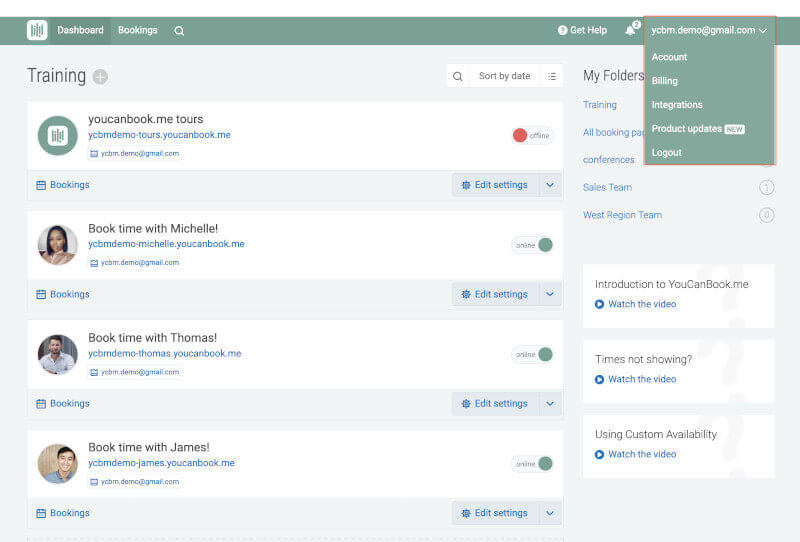 YouCanBook.me was created in 2011 and has developed to become a software used by tens of thousands of people, further, it handles more than a million bookings every month thanks to the small but dedicated team they have. With their 14-day trial, you have access to all features. Basic features can be used for free. The pricing plan increases with the number of calendars you decide to use.
Zoho booking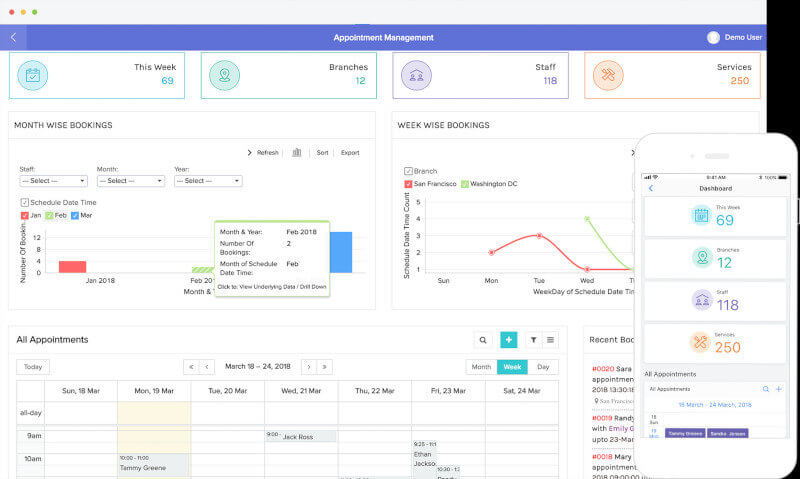 Zoho booking software is available in 9 languages, and it can be used by sectors such as healthcare, education, home care services, beauty centers. Features such as booking for services, two-way calendar sync, automatic confirmation, reminders, and cancellation of emails and integrations with Outlook, GoToMeeting and Mailchimp, are some included for free as long as you have only one staff and one workspace. However, the paid plans include additional features such as sync with Zoho CRM or online payments, and it allows you to add more staff and workspaces.
SimplyBook.me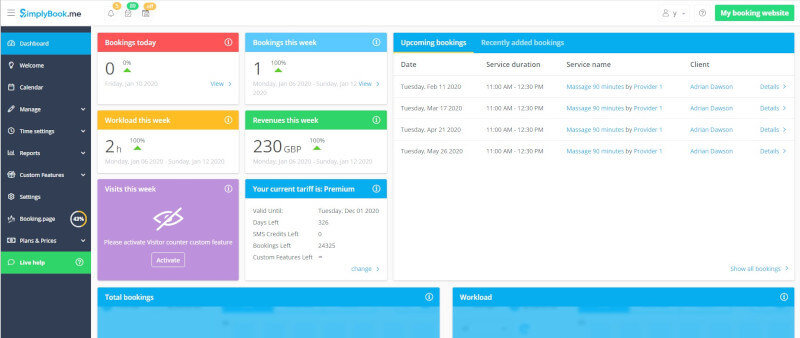 SimplyBook.me was established in Cyprus with another four offices in different countries, translated in 15 languages. SimplyBook.me has the vision to become the best global customer-centric One Stop Solution, where small scale service businesses and their clients unite in harmony. In other words, they envision helping clients book services online wherever they are, whenever they want or whatever they want. SimplyBook.me offers various integrations, including Facebook, Instagram, and Google. These integrations help maximize bookings, sales, and marketing efforts. This software gives the possibility to accept online payments and deposits. With 14 days of the free trial, you can access most of the features and schedule up to 50 bookings during the trial period—the price increases as the number of bookings increases.
Picktime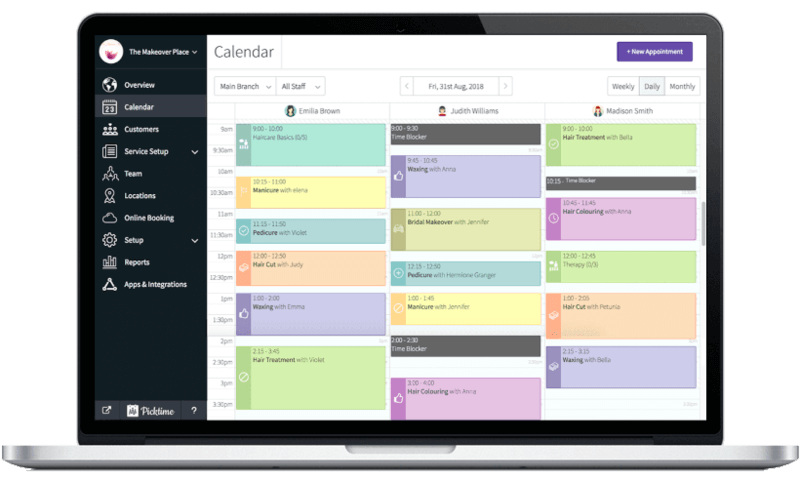 Picktime was created to serve various businesses like beauty salons, medical clinics, events, personal meetings, educational and diverse office related work environments. Picktime offers appointment scheduling, calendar sync, email alerts, management of staff and customers, and reports on revenues. On top of this, it has multiple integrations such as MailChimp, which allows you to send customers email notifications to remind them of scheduled appointments automatically. Integration with Facebook or other websites enables the customers to schedule an appointment with the businesses through their company Facebook page or other websites directly. It is, for sure, allows customers to connect with your business more efficiently. This app can be acquired for free.
Conclusion
While choosing the right scheduling system for your business, it is also recommended that you assess your business's actual needs, check the pricing plan of the software that you intend to use, and whether it is suitable for your business or not. Such benefits you may get by implementing such a tool. Since most of the scheduling appointment software has a free trial period, you can get familiar with the features and decide based on the trial experience.
Such types of software can be helpful instruments to create a better culture where people (employers, employees) can evaluate their work objectively and can develop better relationships with customers through precise and faster communication.