How to create and develop a nail salon in Ghana from scratch using online technology
Mimo Berry is a beauty business based in Accra, Ghana. Having started from humble beginnings 3-years ago, Mimo Berry has experienced a lot of growth and is now known for its colorful hand-drawn nail art. We met with Mirian, a self-taught nail technician and owner of Mimo Berry, to learn more about her business and experience so far.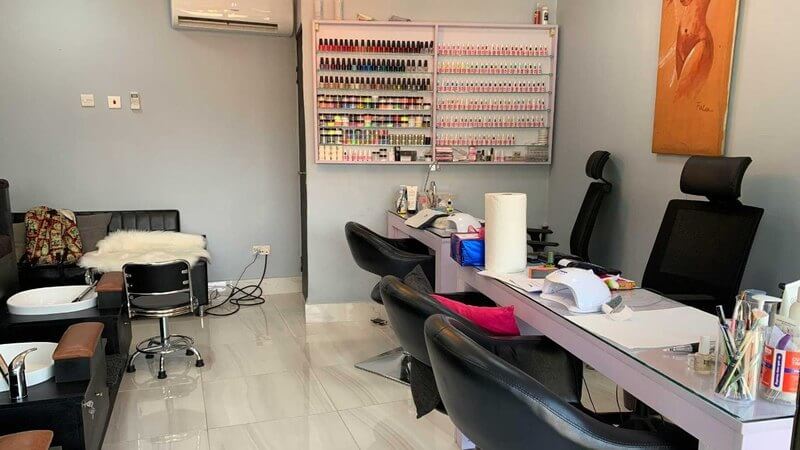 How did you start Mimo Berry?
I am a self-taught nail technician. The business started from my living room with one chair, one table, and a few products - practicing on myself, my mother, and friends. Within the same year, I moved on to offering home services. Later, I partnered with someone and rented a space in their salon. With a table and a chair, I ran my business and paid monthly rent.
After a year, the person I partnered with wanted to close her business. I decided to take the space and had three more people join me. The following year, there was a need for expansion so, we took more space and expanded to having the hair, nails, and pedicure section. This year, we will take on new space because our client base has grown remarkably. In September, we will be moving to a location 6 times bigger than our current place. We would also be adding more services.

How did you teach yourself? Did you have to watch lots of videos on YouTube?
It was 10% YouTube videos along with a lot of reading. It was easier for me to read and replay in my head than for me to watch videos. So, I did a lot of reading and practicing. For example, I will read why things are a certain way, then try to practice. This method helped me understand better.
What makes your business unique or stand out from others?
We at Mimo berry do not see other people as a competition since we focus on our customers. Because of our quality of work, we get good feedback from our customers expressing how we pay good attention to them and offer the best service. We do great designs that our customers love. We have our product line as well, and other salons buy from our brand.
We try to build a family so that it is easier for us to communicate and work together to give the best service to our customers.


How was your business affected by the covid-19 pandemic?
I am grateful for the blessings that came along with COVID for our business. We were only closed for the lockdown enforced by the government. I think it was about 3-weeks and we were able to pay our employees full salary. We had to get a hand-wash station outside the shop for customers and observe other safety protocols.
Some of our clients got sick and were kind enough to inform us. Sales might have dropped a little because people were scared, but it was still enough to get us by.

Do you use an online platform for sales?
I have had a lot of my customers from Instagram as well as Google business. Instagram has been one of the mediums I have used to showcase my work. We have a lot of foreign clients, and they mostly find us on Google search. When they come to Accra and search for the best nail salon in Accra, they locate my business.
On Instagram, people have also seen my work, followed me, and also come to experience the service.

Did you experience any increase in sales from your online channels?
Before the pandemic, I was doing press-on nails customized to fit. I would send this out through a dispatch service to customers. When the pandemic hit, I used Instagram as a platform to market the press-on nails. As a result, even when I was home, we were still making some money because even though no one was going out, people could not do without their nails done.

What is the philosophy behind your business?
I want to create a great workforce. Something that is going to make us take over the nail and beauty industry. It is all about giving back to society, helping women in Accra and the world to understand that you can start something small and make it big.
So, in the long run, we want to create job opportunities for women and the future to run training programs. I do that now but at a fee because we cannot have the freebies for now.

How did you find Loyverse?
I found Loyverse through my brother. He is an IT person, and I had complained to him about my finances. He helped me install security cameras and set up Loyverse POS with a thermal printer. It tracks everything - our costs and revenue. I use the dashboard when I am not at the shop and need to see how the business is doing for the day. Since I do nail supplies, I always advise other businesses that buy products from us to use Loyverse.
When they do not know how to set it up, I call my brother or give them his number, and then they contact him for help. I think so far we have got in several people who use it.

What Loyverse features did you find useful for your business?
When I can issue a receipt, it creates no room for loss, and everything is tracked. Also, the stock-taking is very accurate for me, and it leaves no room for mistakes.

You mentioned earlier that you read a lot, can you tell me more about that?
I did a lot of forums and articles. I could go on Google search and type "Why do acrylic nails lift" and then I will have to find different examples. This method worked for me.
A video is one person telling you one thing, and you have to watch 1000 videos to get different opinions. Whereas in a forum, everybody could agree on one thing and present several examples. That is why it works for me. What also changed my way of thinking was reading a popular book called The Alchemist by Paulo Coelho. The book is not in the line of business, but it changed my mindset, and it made me believe that I could do anything. Another book was The Secret by Rhonda Byrne, it helped me on my journey as well.

What advice do you have for anyone just starting their own beauty business?
Start small, be focused, and be consistent. It gets sad sometimes, it gets very lonely, sometimes you do not understand certain things, but with time you will get it, you will be better. There will be hard times, good times, and times you feel like nobody can help, and then there will be times where everything will fall into place.